Britney Spears stinks up the stage on the VMAs 2007

United States
September 10, 2007 11:40am CST
Ok, so I was just watching the VMAs (I DVRed it). Britney performed first, and boy did she stink. She hardly smiled, made very slow, controlled movements, and looked down a lot as if she was thinking of her next move. The only time I saw a smile was at the end when she finally got applause. Why would she put herself out there if she is clearly not ready yet? The girl needs more practice, and more clothing! Anyone else see this? What do you think?
7 responses

• United States
10 Sep 07
I agree, I just watched it a little bit ago (DVRed it too) and she wsa terrible!! I felt really bad for her up there, it was like she was super tired and just not into it. I think since she is in a custody fight with Kevin she should have done something more appropriate for a mom =) I really like her and I hope she can get it together again.

• United States
10 Sep 07
Yeah and if this custody thing is wearing her out, she shouldn't be performing. Like another discussion I saw said it looked like she didn't even want to do it, but no one was forcing her to sign up for this. I think she's trying too hard to be the sexy performer but people don't see her that way anymore.

• United States
11 Sep 07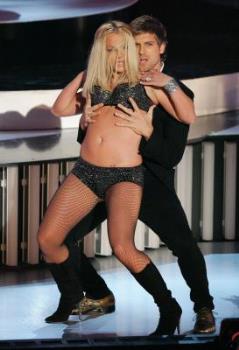 Really bad. The outfit wasn't right for her at this time especially with a custody battle coming up but even without one, not a good choice at all for her body. She forgot the words and just let the music play every once in a while lip syncing some and she moved like she was 80. I was stunned! I honestly couldn't believe it because she had been rehearsing for a long time and seemed like she knew how important this was. Then she gets on stage and doesn't even know her own song? It wasn't a performance, it was a sleep walk. Someone said she had words backstage before preforming with someone but a pro goes out there and performs. She isn't new to this, she has been on millions of stages. This time she wasn't Britney Spears. She was some slow moving, foggy, strange person. I am not sure if I feel for her or feel it serves her right for partying all night the last few nights before the show and for all her past issues. I don't know if she will ever get it together but this better be a wake up call. Bad. Shudder.

• United States
11 Sep 07
Nice pictre :) The outfit wasn't right for her at all! Her dancers wore sexy but covered up outfits, she should have done that. She did move as if she couldn't move that far! It was insane. I can picture her being 80 now that you say that, as she stumbled around the stage trying to move to the music but couldn't seem to keep up. I don't know if it was partying before the show that did her in, it looked to me like she partied instead of practicing! Even if she had partied the night before, or every night, if she had practiced hard it would have shown. I'm hoping she sees this performs and decides to drop out of the light for awhile. Take a break, go on a long vacation, take care of her kids!, and stop worrying about her fame. Maybe then in 5 years she can make a major comback. But not now!

• Canada
11 Sep 07
Oh, what a train wreck. I actually found myself feeling sorry for her. Her lip syncing was way off, and she clearly didn't know the choreography, and frankly she looked like she was drunk or something. Poor girl.

• United States
12 Sep 07
I didn't watch it but read about it today in the news. The article said she was off beat and timing with her lip syncing too. That is a shame that she fell on her face. I guess she wasn't prepared for a performance, let alone one on national TV. Hope this wakes her up so she will get back on the right track.

• Philippines
11 Sep 07

I'm no fan of Britney, but I think people are criticizing her too much. She's a mother now so you can't expect her to have the same figure she had before. Maybe she should just have worn an outfit more appropriate for her figure though. A bikini is certainly not ideal for her current figure.

• United States
11 Sep 07
I only saw a blip when the news made mention of this. I am not a fan of Britney and never will be. It just goes to show you that not everyone is as talented as they think they are or want to be.

• United States
11 Sep 07
I agree it was a completely lackluster performance. I also think her choice of the two piece bikini type outfit was terrible for her figure. In fact I was kind of surprised... to see that she does not have a pericularly great shape... not an hourglass figure!