mapping life's journey... on a refrigerator door

Philippines
September 10, 2007 10:44pm CST
how do you dress up your refrigerator door? does it reflect some of your life's experiences or perhaps daily happenings? :) i have just read another inspiring story from chicken soup and it made me reflect on the different refrigerator doors my family have had over the years. one of my sisters have 3 kids, two of them are already in school. it's great to see her refrigerator door adorned by different art work, quiz results, cards... all made by the kids. the door of the fridge is the venue for greeting cards during mother's day, father's day, valentine's day and so on. from scribbles to great art works. from a simple "i love you" to a great short poem written by the kids. on the other part of the country... my brother's kitchen has two refigerators. i used to stay in their city for about five years before i moved out to another city. and i was so surprised to see their adornment there coz somehow it also reflected me. there in the refrigerator doors are different magnetic souvenirs from the places i have visited before like korean dolls, malaysia's petronas tower etc. i always brought a small gift for my little nephew (my brother's son) and he really liked magnets then. now, their fridge is adorned by dozens and dozens of magnetic tokens to map out the places they have visited during their family vacation as well as the places their friends and relatives have visited too. and my nephew who is now 12 years old, knows and remembers every single place the magnet had come from. be it photos, cards, magnets or other adornments, they all bring life to the surface of the refrigerator doors. and they all reflect a time in our life. so what adorns your refrigerator doors? :)
2 responses

• United States
12 Sep 07
My husbands postcards he sent from Africa, all 8 of them. My sons school schedule and special classes he has everyweek, a newsletter from his school, reminder notice, stickers and magnets of all sorts.

• Philippines
12 Sep 07
wow, your refrigerator door must be overflowing with all sorts of stuff on it.:)

• United States
11 Sep 07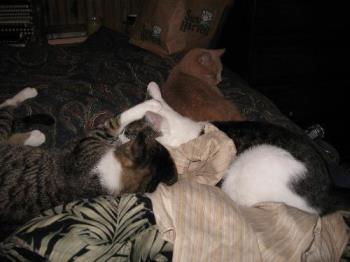 I used to have a lot of 3-d maganets & tacky sayings on my fridge - like "if you want breakfast in bed, sleep in the kitchen."I have a lot few of them now that I have Rygel who, if he couldn't grab them from the top, jumped for them from the floor!

• Philippines
12 Sep 07
hahaha those sayings will surely hit some score. :) i guess rygel and booboo will leave their own marks on your refrigerator door. :)