My Babys Off to School!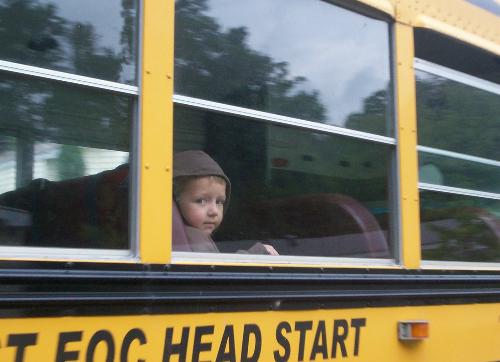 United States
September 11, 2007 1:27pm CST
Well I put my 3 year old on the bus this morning for his first day of Head Start! Hes growing up so fast. When I got him up I told him it was time to get ready to go to school. He got all excited and clapped. He ran around finding clothes, a pair of pants that were dirty put on backwards, a shirt that was to small, no socks with shoes on. LOL He was that excited that he didnt care what he had on. So I got him nice cloths to wear and socks! LOL He sat by the window till the bus came. He ran out there and got right on the bus no problem. I snaped a few pics, you know my babys first day. This is one of the pics I got and I though it was great. The silence has been wonderful. No ones here...I can here my self think!! LOL Its actually kinda wierd not to here the kids running around. I think I will get more acomplished during the day now.
6 responses


• Canada
12 Sep 07
Hi copperkitten! That is so great that your little guy was so excited about going to school! A lot of kids really don't want to go and it's a big fight. When my daughter is old enough to start going I hope she is just as excited to go too! What a great picture you snapped too, too cute ;)

• United States
12 Sep 07
Thanx!! Make her excited about it. Talk to her about school and what she will do there. Take her to the school to see it and the teacher. Tell her how much fun she will have and how many friends she will get to know. Take her school shopping and make her feel special. When shes ready tell her this stuff everyday. Thats what I did with my son and it worked great..as you can see. LOL

• Canada
17 Oct 07
Thank you bunches for best response too! Love & Hugzz, Your Friend, PurpleTeddyBear!

• United States
12 Sep 07
What a great picture...now here is what you have to do...his first day of school, his last year in high school, take the same picture..try to get the same angle. get him to look back at you. Then, for his high school graduation, frame both of the pictures in one frame. It will become an heirloom picture.

• United States
12 Sep 07
Thats a great idea!! I will definatly do that. What about one each year on the first day like that? Them fram them all like a look into his school days. Either way I will do it!! If I remember that long..LOL

• United States
11 Sep 07
Sounds like you prepared him well for his first day of school! Lol, I still see little ones screaming as they come in the building the first week! If more parents had them prepared and excited it wouldn't take an extra week to get them settle. As a teacher we appreciate Mom's like you!

• United States
11 Sep 07
Thanx!! I didnt want him to be the one screaming! I have talked with him everyday for a while now about school and what to expect. He got to visit his classroom and teacher a few days ago. He was more prepared than me!! LOL He just got home a little bit ago. He had a great day and didnt cry at all!! YEAH!

• United States
11 Sep 07
I just wanted to cry when I saw him on the bus...boo hoo....okay, snap out of it already you say!! I can't believe he is off to school already....Oh, Thank you God for such wonderful miracles!!!! Party....okay..just kidding..I better watch what I say because we have followers among us...LOL..

• United States
14 Sep 07
Cherish the memories Copper! Plus you will find yourself thinking about your kids and how little they were from time to time. Make sure to get some quality pictures. Him going on the bus, him getting off of the bus, him doing homework, him napping near the homework maybe. Yes you might get some stuff done Copper, but it seems like you are hanging out on mylot with friends! (Aww, makes us feel special!!!! :D)