what and where are the best beaches to visit around the world?

September 11, 2007 8:11pm CST
The beaches are clean and appealing.The beautiful scenery of a beautiful beach is so amazing and relaxing that's why most people like to hang out and relax at the beach. what are the most beautiful beaches in the world? and where can we find them?
1 response

• Philippines
12 Sep 07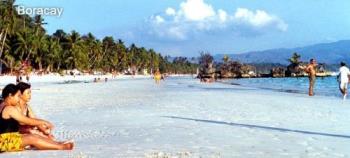 Hello acehlcarlos, There are a lot of beautiful beaches all over the world. Here in our country, the Philippines, we have lots of beautiful beaches which are famous tourist destinations. One place that we love to go to during the summer vacation is Boracay. Boracay boasts of a sugary white sand beach and azure blue waters. The best part of the island is the four-kilometer White Beach known to be the "finest beach in the world." The surrounding water is shallow and the sand is finer and brighter than most beaches in the archipelago. White Beach is so fine, it feels like treading on miles of baby powder. While in Boracay you can do a lot of thing aside from swimming and sunbathing. There are watersports, nature tripping and trekking, diving, and board sailing. There are also lots of bars and restaurant where you can enjoy its local delicacy and party all night. If you want to see more beaches destination you can check out the link below. Enjoy.:-) http://www.tourism.gov.ph/great_hideaways/beach.asp#1

•
12 Sep 07
hello eprado, thanks for the link. We do have a lot of beautiful beaches here in the Philippines because we have 7000+ odd islands but our country is overlooked by the world.We can promote tourism here.hehe..:) If you want to know more about the Philippines, visit this: http://www.wowphilippines.com.ph