i was there!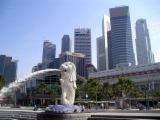 Philippines
September 12, 2007 9:09am CST
Ive been in singapore for a couple of short day...all i can say about the country is that it is really clean, organize the people are very clean and they are very responsible and vey honest. i hope to live there with my family but i do not know how to migrate there. i guess it is hard or the policy is very strict. singapore is very beautiful...very progressive but vey clean...no pollution and their cars are all new haven't seen an old car running the street. and no trash beside the streets or condominiums. one question...why aren't there any houses? only condos?
8 responses

• Singapore
30 Nov 07
Well don't think those that you mentions are condos. Most probably what you saw are the HDB flats. They are just public housings in singapore. Condo cost quite alot in Singapore. Basically land in singapore is scarce and expensive. So only the rich will stay in house.


• Philippines
18 Oct 07
Been there too and it's really a very clean place. Too bad, I arrived there during typhoon season, so we spend most days indoors.

• United States
23 Sep 07
Never been there but I heard it's a really nice place.

• Philippines
17 Sep 07
I agree Singapore is really clean, modern and organized. There's a good observation about why they have more condominiums rather than houses. In Singapore, you cannot buy a lot because it is owned by the government. You can either rent or lease. One big concern is their source of water. They try several ways to meet their demands for water and one of this is by importing it from their neighboring countries. They were also successful in recycling used water in their sewage into drinking water!!! But in fairness, the country is well managed and if you are a yuppie, it's a good country to start your life with.

• Philippines
16 Sep 07
I agree Singapore is such a lovely place. Its a clean city, people are nice and very friendly. If you want to migrate, you can try searching for the singapore web site the government of singapore web site. You can also search for a job, apply for APEC, you need that if you want to work in Singapore. In addition, you can also check some Singaporean news papers, for job openings. Hmmm from what I know, houses are expensive, you are consider a millionaire if you own a house in singapore.Since Singapore is just a small place, owning a land is very expensive, that is why most are condo's. I agree with the cars, no smoke belchers , buses are always clean. Even their commuter train, fast and clean

• Philippines
15 Sep 07
Yes, I've been to Singapore too~!! how I loved the sights, the uniqueness, and the entertainment. I have here a few pics of my trip to Singapore with my family which is precious to me.Including the beautiful dancing fountain in Sentosa.