How hard is it to cut your big toe nail?

Canada
September 12, 2007 2:31pm CST
My hubby has these big toe nails that are hard as rocks. He tries to cut them with scissors but alas breaks the scissors. I buy nail clippers but they too can't hold up to his toe nail. I have noticed that my big toe nail is getting stronger by the year too. I wonder if it is an age thing...do big toe nails get stronger as we age?
3 responses

• United States
12 Sep 07
I have no actual facts for this...only personal experience. I do believ toenails get harder and thicker as people get older. Go to a nursing home sometime and volunteer to paint the old ladies nails!! Some of those bad boys look like they have dragon claws down there!! I have found however that the little dremel tool like they have at the nail places for acyrlic nails tends to be the best way to file them down instead of trying to cut them. He may hate it at first and even refuse to go, but try to talk him into getting a pedicure like once or twice a month - it is SO much easier to let them do it! but yes, i do firmly belive that toe nails get harder as we age - I just can't imagine that a building full of little old ladies all had thick toe nails like that when they were 20! Good luck

• United States
12 Sep 07
lol! my dogs hate the dremel tool! but it's effective! get all the practice you can - they say it makes perfect!! use that line if he says no to the dremel tool - i bet it works!

• Midland, Michigan
26 Sep 15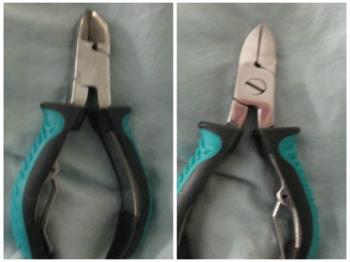 @whywiki
I would try to get your husband to work on his own nails, or just make sure you only work on the nail a little at a time to make sure you don't buzz off part of the top of his toe. One thing I do is use a pumice stone on a handle that I think is to be used on corns and callouses that I sometimes use on the end of a one of my toe nails. I bought a tool a few years ago that works fairly well, but my nails aren't as thick as his, I don't think, but thicker than they were when I was younger.

• United States
12 Sep 07
Cutting the big toe nail for me it's not really a big problem, but I have seen really thick one, who my mum has.And it s really hard to cut it.My mum always ask me to cut, becuase she can bend so good, but I am so worried I would cut her skin to.So she better go to pedicur and they do it for her.I think that's the best way for her not to mess it up with it.

• Midland, Michigan
26 Sep 15
@whywiki
I'm not happy with my toes either, and have never had a pedicure. As I get older and it's harder to reach my feet, I'll probably have to do that after all. I do soak my feet and if he soaks them in mouthwash, it helps soften the nails making it easier to cut them that way too.

• Singapore
13 Sep 07
I also have trouble cutting my big toe nail especially at the corners.