Do you like fIFA 2008?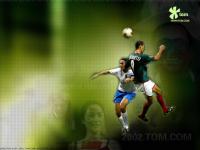 India
September 12, 2007 10:41pm CST
I have downloaded FIFA 2008 demo and it seems to be very nice ..Do you FIFA..
8 responses


• India
27 Apr 08
I got a problem in fifa 08 .... though the game runs just fine and nice , the menus takes time to load ... or drop down .... i get real frustoo when the menus really takes time like that .... Do you guys know what is the problem ?? PLease help me

• Romania
13 Sep 07
and it doesn't require a great system . Comparing to games like need for speed pro street or world in confilct or other big games , this one is running with small resources .

• India
13 Sep 07
u r right.while playing fifa it gives such an experience ,on console also u feel like on the ground to be as Beckham or Rooney.


•
8 May 08
Oh yes man. Fifa is a superb game by EA sports. I play fifa everyday with my friends. It get very interesting when you play teaming along with 4 people in jotstick at same time in gruops using hub. Its simply superb and Fifa 2007 was better than Fifa 2008. I'm disappointed by Fifa 2008 man. But its a superb game. Try to play with more players. Its superb.

• India
12 Oct 07
i got the game... i am a die hard fan of fifa..I played all the series of ea sports fifa released since the fifa 98..I always love to do so...No other game gave me this much satisfaction for playing a video game...Actually by playing fifa i got interest in club football...I got fifa 08 yesterday and i am still experiencing the game...

• New Zealand
22 Sep 07
Yes I "do FIFA 08" and this year i'm really waiting for the new feature " be a pro" hope its good as they say.