BB8 USA:The Finale Two!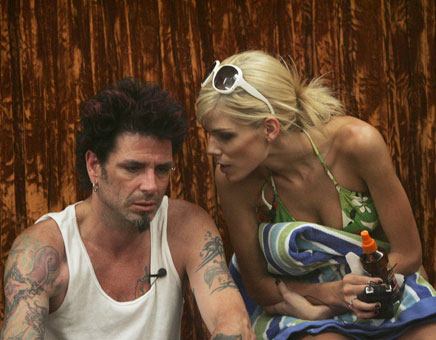 United States
September 13, 2007 7:56pm CST
Spoiler........ Alot of stuff to cover so it is long. Ok first let me just say I was almost in tears! To see Evel and Dani accually look like Father and Daughter! And I give Evel tons of credit for staying on that long,and to hear Dani finally say"I love you" to her dad was a huge tear jerker. But I think what I liked the most in the fisrt comp was Zach laughing at Evel while Evel was tring to shake his game,Zach looked like a mad man out of a movie,didn't you think? And Dani smiling while her Dad was ranting,ugh! Ok the 2nd comp was kinda weird but fun to watch,more water huh?lol.And I don't think either of them threw it for the other. Dani whinning is getting to be so much! What did you think of that comp? Sequester house again,yah about time,Jess and Eric still"showmancing",you thoughts? Ok on to the final most important HOH... Same type of questions from last year,I knew Zach was going to lose he was aweful at questions,I knew Evel was going to win,congrats. So who do you want to win Evel or Dani? So what did you guys think?
10 responses

• United States
14 Sep 07
I think that the only reason Dani said I Love You to Evil was so he would stick with the competition longer. I didn't believe a word of it. Especially when Julie asked her if 10 weeks ago she thought she would be fighting for her dad to win. Then her answer was something like, things are different in this house. I don't think that she was sincere at all. I couldn't believe how long Evil held on for the first HOH! It was awesome! He looked like he was hurting. It was great to see him show some feelings after he got down. I thought that Dani was a Sh*t for not getting Zac a towel too. The 2nd competition was boring to me! It really didn't matter who won because as you said, Zac isn't great at question competitions. Good for Evil for winning. I would much rather see him be the winner in the end over Dani.

• United States
14 Sep 07
I wondered about that,but she might have been telling the truth because she told him that at the end of the comp while Evel was crying in his room,Zach was always aweful at questions and he really didn't get to know any of the hg's,that was his downfall,it is boring now though until the final vote,and the A.P. thing. Why make us wait they both win,if Dani shares the money with her dad and brother. I would just love to be a fly on the wall at the after party,Evel is getting secruity,ha, he must be afraid someone will fight him. But I do want Evel to win over Dani,I guess we will see on Tuesday.

• United States
14 Sep 07
I agree raychill,she said it too while in his room,so maybe she was guniun in that moment


• United States
14 Sep 07
Honestly, I'm disappointed. They both have won money either way. I think it would have been much more interesting to see Zach and who he would have taken with him. Its not really as interesting to watch two family members win. As for Jess and Eric, I think they are cute together...but we all know how past showmances have ended...so we'll see.

• United States
14 Sep 07
I agree I noticed on the message boards on CBS that most people aren't going to watch the ending to see who wins,because like you said they are family so who cares. I am going to watch just to see everyone reaction to the A.P. unvieling and that's about it. I think it would have been a way better ending if Zach would have won.

• United States
14 Sep 07
I agree. Thats all I'm looking forward to as well. I'm more interested in seeing Jessica's reaction more than anything. I honestly don't see too many people being that upset about it. If they get pissed at anyone it will be america and BB producers. Now everyone will know how much everyone hated them though so that might piss them off.

• United States
14 Sep 07
I read somewhere that Jen found out about Eric when they accidently found the America's Player envelope with Erics name on it. I also read that Dustin found out somehow by accident as well. I don't know if that is true but I thought those articles were interesting.


• Orangeville, Ontario
14 Sep 07
My reaction is a lot different from you too. I spent two hours last night watching the whole round 1 of HOH comp on YouTube. Zach really stood his ground. There was a lot they didn't show (obviously). But words did get nasty and BB stepped in and the airing got cut. I was really proud of Zach and really hoped he would win the final competition tonight. I honestly think he would have taken ED with him to the final two because NO ONE in the jury house would vote for ED. No way! Yeah, America and the others wanted to vote Daniele out earlier because they knew she would win if in the final two. I still think she will win. I don't feel for ED and his tears for his daughter. I would be embarrassed to have him for a father and my 14 year old is sometimes embarrassed to have HER father for a father. She will tell me to pick her up because she doesn't want to be seen in his van with him. She got mad one day when he waved to her at the bus stop. He puts golfing first over some of the kids' things and that pisses her off. He doesn't have piercings, tattoos, nor does he curse and yell, but when he drinks he drinks too much. And that embarrasses her. I don't think ED has been much of a father and any separation was probably of his own doing. As for Daniele, who knows how her relationship will end out with her father? She is liable to be great with him for awhile and then have another falling out. She is only 21 after all. Sorry, but I just hate the way this turned out and was really rooting for Zach. Now all I have to look forward to is the revealingn of Eric as America's Player.

• United States
14 Sep 07
I watched the comp too,but I see it on youtube and yes Evel was awesful to Zach and I was glad Zach didn't let it get to him,but at least Evel told Zach he did a good job,Evel rants because that's his game,do I like it no,but it is just a game,I so wanted Zach to win but I just knew if it were questions that wouldn't happen. I also can't wait to see the reacction of the A.P. revieling.

• United States
14 Sep 07
Well... I was sitting here waiting for your discussion. I'm surprised you weren't more upset. Ok. Here goes. I was all ansy during the show, so nervous. I'd geared myself up preparing for Zach to win and take Dani with him (I think he would have chosen Dani cause I think he would have had a better chance to win actually. but I dunno) so you know.. i was prepared. I really really wanted it to be the Evel though because, I wanted it to be the Donatos. Not because I liked them (well not only) but because I'm curious as to who they would choose between the two! I think seeing Dani and Evel as father and daughter was great and it did touch my heart a little. I'm really glad. Cause you know Evel was so upset about them...when a man cries in a diary room about his daughter, you know it means something. Heck when a man cries you know it means something! I was on pins and needles during the final. I hoped it'd be Evel and I figured it would be.. but i'm surprised he only got 3 out of the 6. I, personally, got 5 out of 6. Fyi, did you notice Zach fully admitted that he rode the donatos coat tails after Nick left. so what a surprise...that fully says the Donatos were the only reason he was there! I'd like Evel to win. Because he will use the money on his kids. Dani, on the other hand, is 21. She doesn't need all that money for herself. I think America would vote for Evel since they wanted Eric to nominate Daniele earlier. and I hope everyone in the jury house are kicking themselves because in the end THEY are the reason that the Donatos are the final two. They let them win. oh and Eric and Jessica make me want to puke. that's all.

• United States
14 Sep 07
You are right,and I agree they both deserve to be where they are but if it weren't for Evel Dani would ahve been gone long ago,I so wanted Zach to win but I knew that wouldn't happen. I figured J&E would make you sick and I too think the jury should be hating themsleves,they should have split those tow up long ago. So congrats my friend and enjoy. I want Evel to win now,becuase Dani whinning is so over and Evel might have been nasty but it worked and CBS&BB let him do it,Zach may have rode coattails but he did accually start to play late in the game,he won first HOH on his own,Evel couldn't take anymore and I comend him for all he went through.

• United States
14 Sep 07
Well you did say you had more respect for Evel after the whole hoh competition start anyway. I'm glad you started to turn :) I fully agree that Evel is what kept his daughter around. Why? Because it was his daughter. She may not have done the same thing, especially in the beginning. Another reason he deserves it more. Oh and I'm not saying Zach didn't stand up on his own towards the end. But he kept talking like he made it the whole way on his own. then he admitted that he didn't. I also agree about Dani's whining...but she's a competitor and when competitors lose that's what most do. sore losers you know. Oh and I don't know if I ever told you. A lot of the reason I've always loved Evel is because of how much he resembles Tommy Lee. Tommy Lee has had his battles in the past. But, I think he's a Brilliant and talented man and I just think he's amazing. I always long for Pam and Tommy to work out their relationships and be together forever. Evel reminds me so much of Tommy and instead of the husband/wife thing... Dani reminds me of Pam, just in the Father/daughter way.

• United States
14 Sep 07
Yes he does look like Tommy Lee and I do hope he wins the whole thing.


• United States
14 Sep 07
Wow what a show. I loved the look on ED's face when Zach was laughing and making fun of him. It was a look I have never seen on his face before...Priceless lol. I also did like seeing D and D acting like father and daughter. I think Dani will win it though. As for Eric and Jess....I think there will be something after words.

• United States
14 Sep 07
Yes that was a great moment,Evel realized his game couldn't work on Zach,I was sad thought to see Zach leave,I just can't wait for the finale vite and everyone's reaction to A.P.


• United States
15 Sep 07
I kind of want Ed to win the money. I guess it really doesn't matter, but in some way I feel he would probably actually give is daughter half? But I don't think Dani would share with her dad if she won? I just feel that she wouldn't be here if it wasn't for daddy and he wouldn't be here if it wasn't for her. So they should split it. They might do that. But anyway. I kind of want Ed to get the money.

• United States
15 Sep 07
I agree Evel should get the money and if he doesn he will use it on his kids,no doubt,I don't think Dani would help her Dad out though,they are already fighting,I seen it on BBAD. Evel celebrated all night which kept Dani up so all day Friday the fought,I think once out of this house Dani will stop talking to Evel her brother and the rest of her famil all over again.

• United States
14 Sep 07
I loved it last night. And of course I want evil to win. I think he deserves it. But we never know how its going to turn out. Right? When is it on again? Is it sunday like usual?

• United States
14 Sep 07
Sunday show is just going to be looking back on the season and questions about it to D&D,then Tuesday is when the jury votes. Congrats D&D fan

• Canada
14 Sep 07
Go Evel! I too was touched by how far Evel went for his daughter as he stood in the freezing water for 8 hours. You could see the pain he was in and like a good dad took it for as long as he could. I really hope that it works out for them outside of the house too. I liked Zach but he really wasn't that bright. I don't think his elevator reached the top floor. I think Eric and Jessica may make it outside of the house, I think a guy with Eric's looks has to make up for it in personality and smarts. Jessica is probably tired of pretty boys and Eric is refreshing. I hope they have a good relationship while it lasts. Go Evel!

• United States
14 Sep 07
Congrats Evel fan,I disagree with some of what you said,I agree with everything you said regarding Evel and Dani I do wish them the best. As far as Zach goes,I think he is smart but he never got to really know any of the HG's if he had the game might have enede differantly. I also agree about Jess and Eric I hope they work out.

• United States
14 Sep 07
Well i am a devout ED fan! Dani is annoying and too much of a brat, but they made a great team. I just cant believe they pulled it off to be the final 2!!! I wonder if Eric and Jess are going to continue their "showmance". She's too pretty for him. Dustin is still annoying. I just hate hearing him talk!

• United States
14 Sep 07
Well let me say congrats,I don't think Jessica is too pretty,it really shouldn't always be about looks should it? I liked Dustin he did go to far when he was HOH and he got a big head in the game,which other did too and it backfired on everyone but the donato's.

• United States
14 Sep 07
I was hoping zach would pull it off, but oh well. honestly i don't know who i want to win. I liked daniele for awhile but then she started acting like a spoiled brat and her whinning and complaining was very annoying. I liked evel for the most part, but i didn't like the way he attacked people. i understand that it was to rattle them and mess up their game play, but i think he got a little too personal sometimes. I do think it is nice that evel and daniele have improved their relationship. as for eric and jessica's relationship, i hope that she sees the show and sees that eric really does care about her. i hope that they work out, but you know how those showmances go.

• United States
14 Sep 07
Well I don't really think it was a showmance per say but everyone else did but from what Dustin was saying it sounded like J&E were getting closer in the jury house if you know what I mean,wink wink. I have always liked Evel over Dani and I agree he did get too personal but his tatics worked like em or not. Go EVel,lol can't belive I am saying that agin.