which eye color is most common?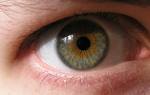 Philippines
September 14, 2007 12:51am CST
for you, base on what you have seen, which eye color is the most common? and if you'd be given a chance to choose an eye color what would it be?
2 responses

• Philippines
2 Oct 07
For me the most common color of the eyes is black. because I know that every filipino are have the black eyes.even some of the foreighners are have a black eyes.

• Philippines
1 Oct 09
based on my research, the most common eye color are blue, brown, and dark brown(almost black)!! remember that black and green eye color is very rare!!! as well as violet! but there is one person i know that has violet eyes and thats elizabeth taylor!! most filipinos says that theyre eyes are black but the truth, it is DARK BROWN TO ALMOST BLACK!!(its different frm real black)

• United States
14 Sep 07
I beleive that brown are the most commen eye color because it dominates over everyother color. my eyes are very dark brown some people say they are black but they are brown!