do you have any pets?


India
September 14, 2007 2:48am CST
hello mylotters,i don't know if you like pets or not.but i love having pets especially dogs.i think they can make you feel needed and give that love and affection for which we all crave.what do you think about this?do you have any pets?what is it and whats its name?what joy does it bring you?are you the one who takes care of it?and those who don't have any would you like to own one anyday?
8 responses

• Canada
14 Sep 07
My husband and I are in the process of trying decide whether to live in Canada or the USA, and that will mean getting all of our pets together. for now I am in Arizona, and a friend of mine is taking care of my cat. Here in Sedona we have two cats, and a dog. Between us we have three cats and a dog.

• India
15 Sep 07
hmmmmmmm thats very nice to know.you have got lots of pets.i think you have more of a liking towards cats.and i must appreciate your friend for taking care of your cat.and by the way what are their names? you haven't mentioned.

• United States
14 Sep 07
I like pets. I've always had pets growing up. Now I currently have a cat. His name is Reggie cat. I love him. He's a great cat. I live alone so yes, I'm the only one who takes care of my cat. I could never live without an animal because it just feels weird to be in an empty house without an animal. Whether it's a cat or a dog or a bird or even a fish.

• India
15 Sep 07
yeah as you live alone you need somebody for company.and i think your pet certainly does that.infact they shower more love and affection than humans and that too unconditionally.


• India
15 Sep 07
horses???? thats something new for me.usually everybody goes for dogs or cats.i think you must be going for horse riding.

• United States
14 Sep 07
I have two 8 month old puppies, but they aren't from the same litter. Sherlock is a 3/4 Chihuahua, and 1/4 Corgi. He's pretty small, he weighs six pounds. He is very ornery. Leon is a full blood Chihuahua, but bigger than most of the breed. I don't mean fatter, more like taller. And he is a sweetie. He's more easy going. Leon weighs 13 pounds.

• India
15 Sep 07
ohhh how sweet AmbiePam!!!!!! i just wish i could take them in my hands and love them.they must be keeping you very much busy.i mean wth such lovely pets,they must taking all your attention.

• United States
14 Sep 07
yes..quite a few actually. 2 dogs, one who is a mixed mutt of who-knows-what breeds. super sweetheart of a little guy. not so great guard dog..he likes to greet anybody who comes knocking with one of his toys. the other dog is a dachsund and chiahuahua mix. he is a little booger dog, quite the attitude and thinks he is the boss even if he is barely coming up to a year old. we are constantly having to scold him for being agressive with the older dog..we are hoping he will calm down as he gets older. he actually is a pretty good little guard dog. barks with his "big dog voice" when someone knocks, and if one of us scream cause we saw a bug, he comes racing intot he room barking his head off! lol cutest thing. i also have a beautiful male betta..named..Fishy LOL. and about 20 lovebirds in an aviary on the back porch..who, unfortunatly are very good at making more of themselves..and i cant get rid of the babies before they are all set with replacements. oh..and there is a big toad in the back yard that likes to be petted. LOL!

• India
15 Sep 07
hey so many pets with you,i would call it a mini zoo.i can't stop reading this again and again.all of them sound really cute.and especially the toad.thats very funny. i would say please don't abandon him and make him your pet.he will be a great company for others.

• Philippines
14 Sep 07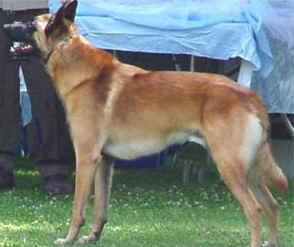 Hello exclusively_rinku, yes I have pets. I like to having pets at home. Yes I agree with you they make a good human companion. I think they help to relive us of our stress and help us to relax. Currently I have a pet dog. She a Belgian malinois. Her name is Ynah and I take care of her. She's very playful and I usually walk her in the afternoon.:-)

• India
15 Sep 07
hii eprado your doggy has got a nice name.it seems you love your pet a lot.and i must say she got a very caring master.

• Gibraltar
16 Sep 07
I love pets, but I am a full time working mother that I don't have extra time to look after a pet. So I don't have any pets at home. My 9-years-old daughter love pets as well. She always asks me to have one at home. But I know at the end I am the only one to look after them. So I have to make up my mind not to have any pets for the time being. LOL