I have stolen chocolate.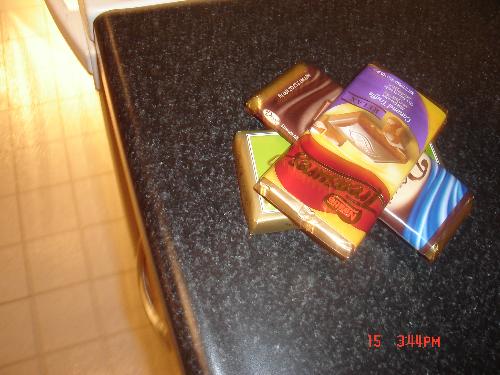 United States
5 responses

• United States
16 Sep 07
Although I have never stolen anything from a store, once when I was about 6 years old my grandmother offered me butterscotch candy and my mother told her I didn't want any. Of course I did want a piece, and said so, whereupon my mother told me to keep quiet and that I was not getting any. When they were out of sight I ran back to the candy dish and took just one piece for myself. Of course from an adult perspective I realize that was not stealing, but at the time I thought that if I got caught my mom might send me to reform school or something. That is a heavy load on a 6-year old mind, lol.


• China
16 Sep 07
It is very natural to steal some foods hidden by the parents when you want to eat them. I am not an exception. I did the same when I was a kid.

• United States
16 Sep 07
I was three, and I honestly don't think I knew what I did was wrong until my mom told me. I took a pack of bubble gum from a display next to the grocery checkout lane. When we got outside I showed it to my mom. She explained to me that it was wrong, and I needed to go back and apologize. So I returned it to the cashier and told her I was sorry. And I truly was once I understood it was wrong.

• India
16 Sep 07
I didnot steal anything from shop, but at home, everyone is alloted a share of eatables. (we are 9). Therefore the parents very well knew that who has stolen the chocolates if someone finds less chocolates or any other eatable. Parents of course know the habits of children and could easily find out the culprit. Then they ask for confession and one would comeforward and he get less of his share as punishment. I do remember, I must have pilfered many things like that particularly eatables when I was child.