Welcome to the Kingdom of Doyle... Otherwise known as Wisconsin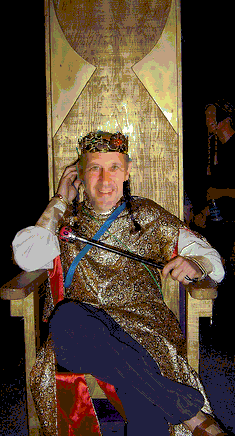 Sheboygan, Wisconsin
September 17, 2007 10:37am CST
As if he didn't wield enough power over the state, King Doyle and his merry band of Democrats are really going overboard this time. For two months beyond the budget deadline, Kind Doyle and the Democrats in Madison are fighing for a budget that will come with the highest tax increase in the history of the US. That's right, not just in the Kingdom of Doyle, but in the entire U.S... in our nation's entire history. Kind Doyle has submitted a budget that includes $15.2 Billion in tax increases. That's not a $15.2 Billion budget, that is $15.2 Billion INCREASE. To put that in some perspective, Wisconsin Taxpayers sent $15.8 Billion to the Federal Government in 2006... In other words, what Kind Doyle and the Dems are fighting for is an INCREASE that will put our state tax burdon higher than our fed tax burdon. By way of comparison, "if the $15.2 billion tax increase were in effect for 2007, Wisconsin's tax burden would increase to 19.3 percent and rank 1st- 5.2 percentage points higher than Vermont's 14.1 percent tax burden that currently ranks highest nationally."When questioned about this huge increase, all King Doyle had to say was, "when the people see what we will be doing for them, they will welcome the increase". http://www.taxfoundation.org/blog/show/22458.html
2 responses

• United States
17 Sep 07
This is pretty bad news for Wisconsin, but an excellent example of what we all can expect if a democrat is elected president and they maintain control of Congress. This is just another step towards the Socialist America that is every democrats dream. Welcome to the USSA.

• Sheboygan, Wisconsin
17 Sep 07
Exactly! Anyone who even thinks about questioning the real motives of the Democrats need look no further than Wisconsin. Btw, the budget is two months beyond the deadline. Guess who it is fighting to protect the worker from King Doyle... The unions? Nope, they are running adds supporting Doyle's budget... Nope, the only group standing between Doyle and our wallets is, The Republicans in the State Legislature.

• United States
18 Sep 07
How DARE the republicans interfere in the democrats' scheme to rip off the taxpayers!! Seriously, the unions have not been for the workers in a very long time. My stepdad was UMW, and union all the way...until they called a general strike for higher wages and better benefits, was out off work for nearly a year, and then when they did settle on a new contract, it nowhere near made up for the lost wages. Then to add insult to injury, the benefits weren't all that great either. When it was all said and done, what they got was worse then the original pre-strike offer, so they actually lost ground. When Ashcroft was governor of Missouri, I was a couple years into my career, and our State Employees union...which was part of the AFL-CIO at that time....went to Ashcroft to try to bargain for a pay raise. Ashcroft told them that the Corrections Officers would get a 10% increase, but it would ONLY be the CO's. The union, in it's infinite wisdom. told Ashcroft that either all the employees would get a raise, or no one would. Needless to say, the only thing we got was barely a cost of living increase. We eventually voted the union out...but it took a lot of work and several years... and the state had to be union free for at least a year before they could vote on a new one. I had already became disabled by that time, so I really don't know how that turned out. I wasn't a union member, but all state employees had a say as to whether or not that union stayed. It had been the state union for years, and they were completely worthless. All they ever did was sit back and collect the dues...and every now and then they would try to save the job of someone about to be fired. If the state fires you, then you really had it coming, at least here in Missouri, because they are always shorthanded. Anyway, the unions stopped being for the worker a very long time ago. All they want to do now is collect that money, and make sure that only union friendly candidates get elected...which is just about any democrat.

• Sheboygan, Wisconsin
18 Sep 07
True! The only thing a union can guarantee is workers will be paying union dues.

• United States
25 Sep 07
Everybody says this....when people will see what we are doing for them they will welcome the increase. Now increasing now and staring from the begining all have to pay the tax but not get the improvement at that same rate right? Its all politics just to raise the tax again and again, its real tough to understand and bare

• Sheboygan, Wisconsin
25 Sep 07
What gets me is how much support he gets from the people. The same people who rant and rave about the high cost of gasoline, welcome a tax bill that will put a much bigger strain on their budget.