who likes tyra banks?

United States
September 17, 2007 2:30pm CST
Ever since i've been in the states, i started liking TYRA BANKS. Maybe because in the Philippines I don't see her shows that much. Unlike here, i watched her shows everyday i even record it in case i missed it.
7 responses

• Philippines
21 Mar 10
I love Tyra Bnks too! She seems nice and down-to-earth even if there are rumors that she's not actually like that for real. Well, she helps young girls to develop self-confidence and I think she helped me a bit. I love her and she's my inspiration and role model.


•
6 Feb 09
I did like her, but lately she seems completely phony baloneyy. I've heard she's such a diva and very rude to fans. That sounds completely different than the person she portrays on her talk show and Top Model. Plus, she wants to be Oprah. TYRA WILL NEVER BE OPRAH!

• United States
20 Aug 08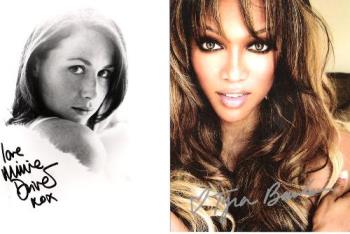 My wife likes to watch her shows. I have only seen it a few times. She likes her so much I sent an email and asked for an autographed photo to give to her as a surprise. The funny thing was, I actually got one in the mail just for sending the email.


• Philippines
27 Apr 08
i like tyra banks. me and my sister really love watching her shows. i especially like "america's next top model". imagine staying in front of the tube for an hour watching nothing but beautiful girls. there is heaven on earth.

• Philippines
24 Apr 08
I oh-so-love Tyra! She's awesome. She's so human in all aspects but she still is super.

• Philippines
15 Oct 07
I also like Tyra Banks... i think she is very down to earth and talented... she was able to take a new career after being a supermodel which is difficult to do... I love watching America's Next Top Model and the Tyra Banks show... there are so many things to learn in the Tyra Banks show...