do u love ur school uniform

India
3 responses

• Australia
1 Oct 07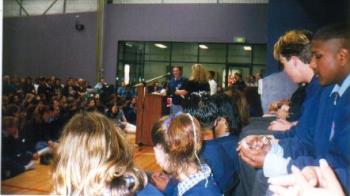 I loved my uniform. We were all the same when we were in it. We saved on money and knew who was from what school. I loved the colours of it as my fav colour is blue. We had dark blue, light blue, white and a bit of red. In winter we (girls) had a dar blue pents or skirt with light blue shirt and dark blue jumper and a tie that was dark blue with a bit of white, red and light blue. white socks and black foot wear. In summer we had a dress again in the same colours.

• United States
17 Sep 07
When i was a child we did not have to wear uniforms.My children do not have to wear uniforms either and they are happy.I think it would save me alot of money if they did wear them atleast mon-thurs and then have dress down day on fridays.

• India
17 Sep 07
yah maybe u r right bt we love to wear school dress as no one dare to beat us thinking that the whole school will take action regarding this matter so thanks alots

• United States
4 Oct 07
I don't have to wear one anymore. When I entered 2nd grade my school had us wear uniforms, and I didn't like it much, I didn't HATE it, but it definnately didn't like it. Now that I moved, and don't have to wear a uniform anymore I kinda missthe days when noone could make fun of what you were wearing.