Does your cat have a special place it likes to sit or lay?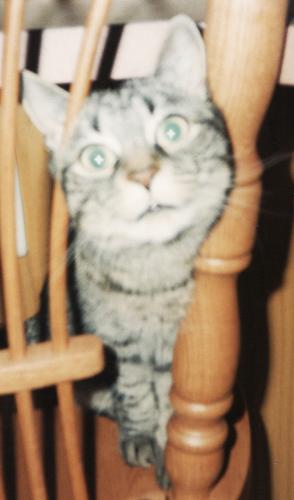 Canada
7 responses


• Canada
18 Sep 07
Ive never heard of a cat there before.lol.They like funny places.:)

•
18 Sep 07
Well I have 6 cats and they all have their own special places to sleep. Our baby Lily always sleeps on one of my old fleece jackets at the bottom of our bed, while Sasha sleeps on the pillows at the top of the bed. Meanwhile, Wilby curls up on the spare bed in the spare room, Henry sleeps on the armchair in the lounge, frodo curls up on the sofa in the lounge, and Clarence (our newest addition) sleeps on an old chair underneath the dining room table. Frodo also sometimes sleeps in one of the big pull-out drawers under the divan bed in the 3rd bedroom. hey all seem perfectly happy and comfortable.

• Canada
18 Sep 07
6 cats!?You have alot of love to give.I like the name frodo,is it from the movie "lord of the rings?".:)

•
19 Sep 07
Yes - "Lord of the Rings" is one of my favourite books - I have read it so many times, and find something new in it each time. So that is how Frodo got his name. And thanks for the Best Response!

• United States
18 Sep 07
One of my kitty's favorite places to lay is in one of my bigger flower pots. He will curl up in it and take a nap in the sun. It is so cute. I have learned that I can't plant anything in that pot. He has made it his permanent bed. I think it is just adorable how cats will pick a certain spot for their routine naps. Most of the time, I have learned, they love to find a spot to curl up in. Is there a special spot your cat likes to sleep?

• Canada
18 Sep 07
LOL.Yes!Ha,ha.One day i had gone to the store and purchased a nice low basket with a handle because i was going to do some dry flowers to put in it.I had come home and set it on the coffee table to see if it was low enough to see past it.I forgot about it for awhile and when i went back to see,well my older cat tiger decided it was going to be her catnap bed from then on.lol.She sleeps curled up in the basket in the middle of the coffee table.Its so cute!I ended up buying anoter basket just for me this time.They are just soooooo cute and kissable!:)I have a picture of her in it but its put away in a box in our bedroom where my boyfriends slepping.Darn it!I will put it tomorrow in my pictures.:):)

• United States
18 Sep 07
My cat sleeps either on a chair or the dogs bed then in the middle of the night he comes and sleeps in my bed with the dog.

• Canada
18 Sep 07
Lol.Our cat sleeps in the dogs bed too.Actually the cat took over the dogs bed and will not let her in it.She hits the dog on the head if it tries to get in.:)

• United States
18 Sep 07
During the day they lay anywhere. At night, when I'm in bed, one of my cats always lays by my side, between me and the wall. The other one is usually across the top of my pillow or at my feet with his head on my ankle or foot. That depends, however, on where the dog is sleeping that night. If the dog decides to sleep in his crate, the cat will be on the bed. If the dog is on the bed, that cat will go sleep with my son.

• Canada
18 Sep 07
This is cute!The cats dont like to share the bed with the dog.lol.:)

• United States
18 Sep 07
One place my kitties like to sleep in is a simple cardboard box that I have one of my old pillows in it--I changed the pillowcase once a week so it's nice and clean...In the year that I've had my new sofa, I haven't once sat on it...heaven forbid...it's theirs!! LOL...The two also love to hop up on my bed when I'm ready to go to sleep and they keep me company all night long..

• Canada
18 Sep 07
The couch is theirs mommy.Thats so cute and you can tell that you love them very much,enough to give them your couch as theirs.:)

• Canada
18 Sep 07
I miss my kitties, I let them stay with my parents when I moved out. Anyways, they were quite the pair those two! They would often lay on the top of the couch directly above someones head (often they'd lick the top of your head too)..hehe. They also liked to lay on my bed with me which was a killer for my allergies...!

• Canada
18 Sep 07
Hi!Oh im sorry to hear that.I dont know why they like to lick the head.Are they trying to groom us or what.lol.I have allergies too.I have a gate for the bedroom so they cannot go sleep in there.Id be sneezing all night.lol:)