Is Dog Hair a Problem for you?

United States
September 18, 2007 6:24pm CST
Do you mind dog hair? Does your dog shed excessively? Did you know this before buying the dog? I have become quite anal about the dog hair (Golden Retriever and German Shepherd mix) if I were to get a new dog it would be a dog with minimal to no shedding. Some friends of mine have many pets including several indoor cats, pugs and a Golden Retriever. There is hair everywhere. Countertops, beds, dishes, everywhere. They dont care the animals have free roam of the house and sleep on the bed with them at night. Do you have a problem with dog hair? Are you okay with it? Do you let your dogs sleep on the bed with you at night?
7 responses

• Canada
18 Sep 07
I have two dogs. A cocker spaniel who doesn't shed and a chihuahua that sheds like crazy. It sort of does drive me insane, especially becasue I had the cocker first and never had hair on anything (I know rare for a cocker but I was lucky or something). I brush the chihuahua every day and that seems to cut down on the hair. I'm thinking about gettig a stop shed shampoo. It's the worst in the morning when I'm getting ready for work and she want to be picked up but I can't because then I'll be covered in hair. Oh well, I love her anyways.

• United States
19 Sep 07
I try to brush my Buster (beagle) daily. But I am lucky if I get it done once a week. He doesn't take kindly to brushes. HAHAHAHA!! HAPPY POSTINGS FROM GRANDPA BOB !!~

• United Arab Emirates
19 Sep 07
Yes, I am problem with dog and cat's hair. I think it is not a good idea to let animals sleep with you on your bed. Moreover, if there is a baby in the house, then keeping dogs and cats at home is a big no for me. But, I think that this differ from person to person. It is just my thinking. I love pets and care for them. But, I will perfer to keep them seperate.

• India
19 Sep 07
Hi, i have always had pets since i was born, and i simply accept and love them, with their flaws, no matter what they maybe, as i tend to over look these small things. Of course it is a problem at times, as i feel that dogs normally shed their hair or their hair falls twice a year, and its normal and natural, nad we cannot do anything about that, but to keep the place cleaner than normal and brush the dogs hair more frequently. Earlier we had a Lahsa Apso and they have long hair almost covering their whole body, and they shed a lot of hair as well, but we hvae pomeranians now and they are a shade better, but still, they also shed hair, guess its part of their habit and nature, something not in their control. And because i am a dog lover, my dogs are not restricted in any place in the whole house, and they are on the beds, the kids rooms, the kitchen etc all over, and its alright i feel, as none of my family members have a problem and we all love dogs, of course there are some people who just cannot see the sight of hair and dogs and the mess they make, guess we just ignore them and keep our place a little more cleaner than others :)

• United States
19 Sep 07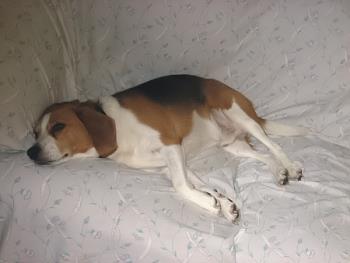 Grrrr! Shedding dogs. I own a beagle named Buster. In the attatched photo you can see that my couch is covered with a sheet. This is becuase the couch and chair are a fuzzy type material and pick up & retain dog hair all too well. I have to sweep and or vaacuum daily or there is dog fur flying all over. It's not really that bad but enough to keep my couch, love seat, and lazy boy rocker covered. Buster will sleep on the bedroom floor. But he is trained and will not get into any bed withoput being asked or told it's okay. So he never sleeps in the beds. That will never be allowed either. HAPPY POSTINGS FROM GRANDPA BOB !!~

• Philippines
19 Sep 07
I had a dog also she is japanese spits in breed and I do have problems too because she is also a little bit hairy. But I used to trim it twice a month so that no so much shedding. Now I can let my dog sleep on my bed and play with my kids.

• United States
19 Sep 07
My dog is an excessive shedder! As much as I love him, I really can't stand his shedding! Oh, it is horrible. I don't allow my dog to sleep on the bed with me or get on the furniture. Just to much hair to clean up! I do know some people who allow their pets to sleep in bed with them, lay on their couches and I just think it is more work than need be.

•
18 Sep 07
I have a labrador/retriever and when I first got him, he was 6 months then, I bumped into someone I knew vaguely and she said she had bought a labrador for her children and then got rid of it because of all the hairs it shed. At that time mine did not seem to shed much so I was really shocked she could do this, obviously her children would have been upset. However mine is 10 years now and he sheds hair constantly, he must grow thousands of new hairs daily. I don't let him on the furmiture and not in the bedrooms because of it. I've often thought I must have breathed in and swollowed hundreds of his hairs. I used to have a border collie and had no problems with him at all and I also have a small dog tht is part jack russell and she doesn't leave hairs everywhere either. I still love him even though he is a hairy hound. If you take your dog outside and brush him morning and night it will help keep the hairs in the house a bit less but I have an idea tht if you brushed my dog for the whole day long he would still be hairy and would still have hairs coming off him with each stroke of the brush.