Happy day! Good news!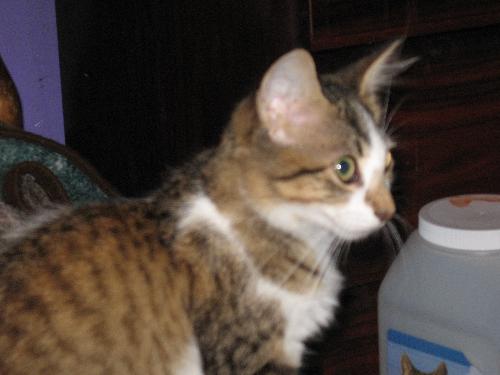 United States
5 responses

•
19 Sep 07
Awww - it is always nice to wake up to good news! And to me there is nothing nicer than finding out another sweet animal has found a safe and loving home. Cats bring such joy to homes, and deserve lots of love back. Thanks for cheering me up on this wet morning at work!

•
19 Sep 07
Well I don't think it will get better until I leave the office - LOL! I am taking minutes in a very boring meeting most of today, and rush to myLot every time we have a break just to stop myself dying of boredom! LOL! Hope your day is better than mine!

• United States
22 Sep 07
Wow I bet you feel good that you found a home for one of your babies. I could not imangine taking care of as many cats as you and your room mates do. I sleep with my hubby and my two cats. When the two cats lay on me that is enough let alone all that you have I could not breath. LOL You are a special person to be doing what you do. Take care friend.

• United States
23 Sep 07
Elic it is always great news when a little one finds her special forever home.

• Netherlands
20 Sep 07
This is great ElicBxn, and you have all the right to feel great about it, as you and the kitty deserve it, you the good news and she the good home with loving people to take her in, andf give her a home and loving care ;) TheFortunes

• United States
19 Sep 07
Thats great news..I am always happy to know that a poor little kitten is going to have a loving home...