you like chicken egg more or duck egg more ??

Malaysia
11 responses

• Australia
21 Sep 07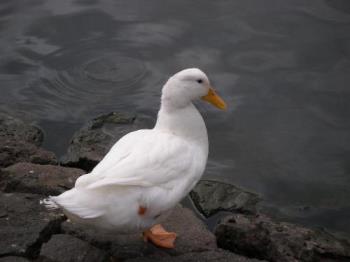 Oh wow how spooky is this, I just went for a walk around my local park and took some photos and I came home and checked my mail and here is this topic asking about chicken or duck eggs and look what I just took a photo of....I only have chicken eggs and they must be free range...

• Malaysia
21 Sep 07
hi, there.. you din't work ?? hehe.. you can try eat duck egg oh..

• China
21 Sep 07
i think chicken egg is more popular.The nutrational value of them is almost the same,but duck egg is smelly.The salty duck egg is better,you can try it.

• Malaysia
21 Sep 07
yup.. same as me.. duck egg smelly oh.. but i hear people when cough eat duck egg good...

• China
21 Sep 07
in china,we have salted duck eggs,it's yummy.we often eat it with conjee

• Malaysia
21 Sep 07
me here also le. because duck egg big than chicken egg.. i don't like salt egg also..hehe..

• Philippines
23 Sep 07
i like chicken eggs for everything. but i also like duck eggs when they have aborted chicks inside and then boiled. yum! the broth is so tasty and so is the unborn chick. this process changes the taste of the egg. so yummy! it's a filipino delicacy. :-)

• United States
21 Sep 07
The only kind of eggs I have ever eaten are chicken eggs. I dont eat those real often either. I only like them scrambled or I eat only the whites if they are fried or boiled.

• United States
21 Sep 07
Hmm I've never heard of having duck eggs lol, so I would definitely have to go with chicken eggs. But I will only buy from the store..I won't get them straight from a farm because then I don't trust that they are clean and safe and healthy lol. Maybe I'm just being a prude, but that's just the way I am I guess.

• Malaysia
21 Sep 07
hi, there.. erm..my sister in law house got feed some chicken then me some time got eat from there..or sometime will buy.. i think take from farm also can eat...


• Philippines
25 Sep 07
I've never tasted duck eggs before. And thank you for saying something about its smell. I think I will never eat duck eggs. I like chicken eggs though :)

• China
23 Sep 07
Generally speaking,I like egg more too.But you know what ?sometimes duck egg is not as bad as you think.I don't know if you have eaten salty duck egg,it is very delicious,if you haven't eaten it before ,you can have a try,i don't think it will make you disappointed.haha just have a try!

• United States
30 Mar 08
It actually depends for me. I am probably one of the few people that can eat a salted duck egg with no problem, but we're talking about someone who's known to gulp down a bottle of soy sauce. Even though I don't have the problem, salt does supposedly contribute to high blood pressure. If I'm eating egg as-is, I am more used to chicken eggs. The duck egg is larger, & the taste is stronger than that of a chicken egg. I am not sure about which is actually better or worse, being that eggs, mainly chichen, but not sure about other eggs, are considered high in cholesterol. In addition to chicken & duck eggs, goose eggs are also eaten as well. I never did try a goose egg though. Pigeon eggs are sold at some Chinese grocery stores, but I have not tried that either. However, they are very small compared to a chicken egg.

• Canada
22 Nov 07
I have never eaten duck eggs so I guess I would have to answer I like chicken eggs better. But have you ever tried turkey eggs? They taste the same as chicken eggs but are so much bigger. They are about the size of two chicken eggs so you only need to cook one if your just cooking for yourself. They can't be bought in the grocery stores, but my sister has a friend that raises turkeys and she gets them from her and hands them out to all of us, her family. She can get as many as she wants, dozens and dozens at a time.

• Philippines
20 Nov 07
i think i would prefer duck eggs. ^__^ although i can't eat eggs anymore because i have allergies, i think i would prefer duck eggs. chicken and duck eggs are both smelly for me. i would prefer duck eggs because i think its bigger and for me it is tasty than chicken eggs. ^__^