Jumping on furniture

United States
4 responses

• Cambridge, England
21 Sep 07
The best way is to lift them off each time they get on the couch saying firmly and clearly 'No!' You may have to do this a hundred times a day until they understand that you are the boss/new mother cat and you have to be obeyed. This will take time and you must do it with patience and understanding that it will take a while before they understand what 'No!' means and a while longer to understand that the couch is a 'No!' place. Consistency, firmness, patience and above all NOT raising your voice work best with small animals and children alike.

• United States
22 Sep 07
I've had cats all of my life and can't fathom the idea of never having them on my couch beside me or on my lap. Kittens are being playful and don't know the difference however if they're scratching your couch you could get a scratching post to use instead and when they go for your couch, show them the scratching post. Better yet, get more than one and put them at the corners of your couch so they'll get use to using them instead. It worked for me.

• United States
22 Sep 07
Try a squirt bottle with water in it. Everythime they get on the couch give them a spray and say NO. A few times of this and they should get the point.

• Canada
21 Sep 07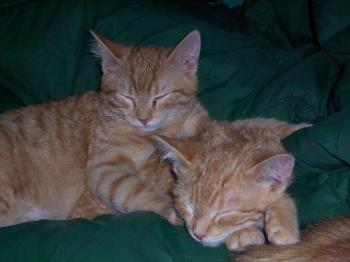 My hubby and I have been cat owners all our lives and have never NOT wanted our cats on the couch beside us. Our solution is to put a 'throw cover' on it to protect the fabric. Then we can have the positively lovely enjoyment of our kittens and cats snuggling up beside while relaxing, reading or watching television. However, if that is not an experience you want..then the suggestions Owlwings made will probably work. I have included a photo of our two ginger twins snuggled up between my hubby and me on the coach..on their blanket. We have 5 and love them all! Good luck with your training and hope your kittens bring you lots of love and much pleasure!Also congrats on being so close to reaching the 100 point and achieving your star ratings. Raia