FIRST ZOO WAS FORMED IN CHINA in 12th CENTURY B.C.

India
7 responses

• India
9 Feb 07
yes numbers of times i have visited their with my husband and my baby . me and my baby both like to see all kinds of birds (specially peacock) and tiger .

• India
12 Feb 07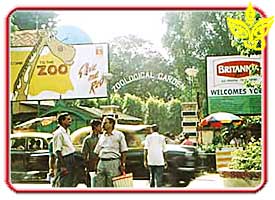 Alipore Zoo at kolkata and at nagpur, Maharashtra too we have visited with my baby

• India
9 Feb 07
THE MOST STRIKING THING THAT I FIND IN ALL ZOO IS THAT THE ANIMALS ARE CAGED AND THEY ARE LIKE PRISONERS.. WHERE AS IN WILD LIFE SANCTUARIES THERE IS A NATURAL ENVIRONMENT AS THAT OF A JUNGLE AND TRUE NURTURING OF ANIMALS IS POSSIBLE IF THEY ARE PROVIDED WITH ANTURAL SURROUNDINGS. EVEN PEOPLE MAKE FUNN OF ANIMALS IN THE ZOO..

• India
14 Feb 07
That concept can also be adopted in india if the people over here but some strains on their mind. what do u say??

• Canada
22 Feb 07
i love taking my daughter to visit the zoo. some big zoos do take proper care of their animals and are there for research perposes and do a lot of good things for the animals. some smaller zoos though aren't a good environment for the animals. i went to this one place with my daughter and i saw the wolves and they had such a small enclosure and just kept passing back and forth. i know that this is a behaviour they get from being in small places and when they are not happy becuase they don't have enough room to go around. i started crying cause i felt so bad for them. places who don't have enough room or can't properly take care of these animals shouldn't ba allowed to have a zoo.

• Nepal
14 Feb 07
i have been to central zoo here in nepal and that is the only zoo in nepal i've been there thrice and its really great being there i couldnt have seen any of the wild animals if there were no zoo thank you for the information about zoo keep it up

• Malaysia
9 Feb 07
I went to zoo frequesntly when I was young, and now I seldom visit zoo anymore as there is nothing much to visit now in my country. A zoo should have the animals that we rarely see, like white tiger. I saw a white tiger before, in one of the zoo in my country. Too bad he only lay down there, doing nothing. And according to my mom, if you can see a peacock open up its 'tail', then you will be having good luck. So whenever I go to zoo, I will be searching for peacocks and wish that they will open up their tails to when they see me. But wish is still a wish.

• India
9 Feb 07
yes..i have had visited zoo many times...its located very near to my place.rani bag is zoo name in mumbai and i haave visited several time there.for me the most striking in zoo was that animals under very small cage and there was no name of cleaniness.it was really dishearted to see animal under small cage and specially snakes in small glass box.anyways..these day they are working to provide large space cell for animals.

• India
4 Dec 06
I have seen a zoo in Mysore and a snake part in Chennai. In most places, man handles the animals, but he manhandles them.

• India
4 Dec 06
Corbett's Tiger Reserve and also one in Gujarat are all famous wildlife sanctuaries. It is better to see the animals in wildlife sanctuaries than in zoo.Thanks for your response.