Anybody tried EMDR for Depression?

United States
September 22, 2007 10:13pm CST
I've had difficulties with depression all of my life. Recently, a friend who's a psychiatrist recommend EMDR (Eye Movement Desensitization and Response). Therapists must be specially trained to do it. I've been going for about three months now, and I must say, it's changing my life. My friend who's doing it agrees. Studies show it's really good for post traumatic stress, but I think it works for more subtle, underlying causes. I've even cut back my medicines. All this time, I thought my depression was completely biological - and I do think that's a factor and the biology makes me more prone to process things in a 'depressed' way. But I'm telling you, EMDR is really helping me. Anyway, if you haven't tried it, please do check into it. It seems to take a month or two of regular sessions, (I go nearly every week), but unlike other therapies, you can actually finish with your 'stuff' and be healed. (I'm probably going in for one or two more sessions and then I'll quit or only go back occasionally for check-ins.) Especially if you're prone to suicidal ideation - please, please try EMDR!
2 responses

• United States
23 Sep 07
I've never heard of it before but I would be willing to try it if it really works.

• United States
23 Sep 07
I'm hoping it will work for my daughter, she is depress, and was raped last year, she has some issues to work on, we hope this will help her.

• United States
23 Sep 07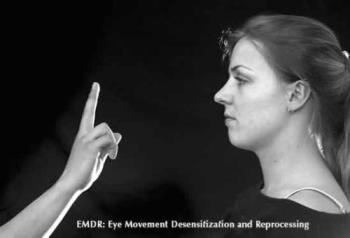 I have used EMDR for post traumatic stress. Well...suspected PTS. I don't remember what happened but something did, if that makes sense. I liked it. The stuff I remembered and saw was amazing. I remembered things I long since forgot and came very close to getting to the root of my issues. The therapist left for a job at a Veteran's Hospital so I had to quit and am looking for someone else around here. Not many do it or believe in it. It seems weird that eyes moving would conjure up such visions and feelings but it does. I didn't like the feeling at first but, after a while, I relaxed and just let my eyes do their thing (closed - I held little buzzers in my hands that pulsed and my eyes naturally followed.). I now know something bad (I don't want to get into it here. I am sure you understand.) happened to me as a child and I am close to actually figuring out who it was and exactly what happened. I agree with you. People should try it for unresolved anxiety, PTSD, depression, and unresolved issues. It does work and can be very fast as far as getting to the root of things without all the talk.