What was your most recent dream?

United States
September 23, 2007 10:39pm CST
What was your most recent dream? I dreamed last night that I was married to an oriental man and I was in the car with him and his mother. She hurt her arm and he took her to the hospital and told me to sit in the car. I did so and across the street was a theatre. I was stretching my neck to see the movie inside...I could actually see it. It was set up differently. There were news channel camera men filming the theatre, when suddenly one started filming me and I saw myself. I was very stunning. Very unusual dream.
9 responses

• Philippines
29 Feb 08
I dreamed of falling from a high cliff. Quite scary but I'm glad to be awake. Lol. I am not sure what does that dream mean but somehow it has done me good, I woke up prayerful. Hehe.. Sometimes, when bad things happen that we call for mercy.

• United States
29 Feb 08
Jeannie May, I think it may indicate that you fear a loss of control in your life. Always good to be prayerful.

• Philippines
29 Feb 08
Losing control of my life? Wow! Thanks for reminding me that. Well, I guess that dream is somehow a wake up call. Thank you for that. Yes, it pays to always trust His heart and what prayer do. Life is full of mysteries and surprises, it is more adorable to seek His providence and His light. Thank you for that reminder. Kudos!

• Canada
25 Feb 08
I can't remember what my dreams are about but I wish I did though.

• United States
25 Feb 08
Some I remember vividly and others not at all.


• United States
26 Sep 07
Can I have your autograph? lol


• United States
26 Sep 07
Keep having mylot discussions and it might happen lol!

• United States
26 Sep 07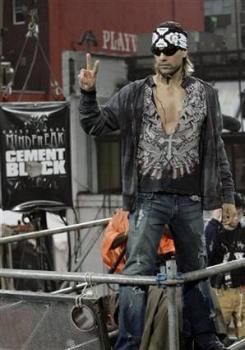 Usually my late father plays some part on every dream but last night, he didn't (that I remember). I was renting a half of a house and Illusionist Criss Angel was renting the other half. We got along fine and shared the whole house but then a bunch of his friends came over and told me I shouldn't let him use my half of the house. I agreed and took his grocery list that he tacked up on a board in my half of the house and stuck it on his wall. He couldn't understand why I was turning on him and I told him I would shut and lock the door if he kept coming into my half of the house. WEIRD. I would never shut my door if I was sharing a house with Criss Angel (Love the guy). I have NO CLUE what it means or why I dreamt it. He wasn't on my mind at all.

• United States
26 Sep 07
You probably think about him a lot!

• United States
24 Sep 07
I had a horrible dream a couple of days ago. I dreamed I was at an airport, and some people there were telling me that they had been detained, and searched for hours, and were accused of all sorts of things. I was going to leave, when Three security guards took me to an interrogation room. They explained that they were scanning people for alien implants, and they had to make sure that I didn't have any. They had some kind of device that looked like a computer mouse with an infrared beam coming out of it. They scanned my head, and the held the thing over my left eye, and my eye started to throb and hurt really bad. They told me I had an implant, and they would have to surgically remove it. I realized that they were really aliens, and were actually somehow putting some kind of tracking device into my eye. I grabbed one of the examining tools that were on a tray in the room, and started to stab everyone in the room. I ended up killing them all. I'm not really that paranoid, but sometimes I think I've seen too many sci-fi movies.

• United States
24 Sep 07
Wow! Karen, just say no! Turn off the TV set...throw it out the window..whatever it takes!

• United States
24 Sep 07
I don't remember much -- just a lot of confusion. I think I was running from something again.

• United States
24 Sep 07
It is probably telling you to slow down.

• Richards Bay, South Africa
24 Sep 07
My recent dream is actually more than a nightmare than a dream. We are suppose to stop over in Greece going to Michelle (5 hours) and when we come back (24 hours!) I dreamed on our way there the airplane crashed we were just fine but couldn't get a plane to the UK and had to spend our whole vacation in Greece. Yours was much better than mine. Wanna swap? :)

• United States
24 Sep 07
I thought you left already! No, I don't want to swap. Maybe it came upon you because in the back of your mind you think just a little about it....ah Greece...spanapokitika

• United States
24 Sep 07
I had a dream that something was chasing me and I hid under water and the water was shallow but I could breathe while I was submerged under water.

• United States
24 Sep 07
Maybe it means you have a big fear and are willing to do anything to escape.