If you celebrate Christmas

United States
October 27, 2006 12:47pm CST
When do you put your tree up? My best friend is putting hers up this weekend. I think she is crazy but what do I know. I usually drag mine out the weekend after Thanksgiving.
11 responses

• United States
27 Oct 06
I usually put my tree up and start decorating the weekend after Thanksgiving, but it is never to early to start decorating. Christmas brings out the best in people.


• United States
28 Oct 06
I like to celebrate the seasons/holidays as they arrive. I don't think I would celebrate July 4th before or with Easter, so by the same token I think Halloween and Thanksgiving should be celebrated before we think about Christmas celebrations. In My Humble Opion.

• United States
28 Oct 06
Wow, thats early to put it out this weekend. It has kind of become my own tradition to put the tree up thanksgiving night. It started because for a while I was single and living alone. I would get home from thanksgiving dinner and be bored and lonely. So I decided to put it up to pass the time(I use a fake tree). But I liked doing it that night, and Ive been in a relationship for 4 years now and its been the same way ever since.


• United States
28 Oct 06
We don't usually get one up until mid-December, if that early. I love it, but time slips away. One Thanksgiving we ate at my sister in law's house and after dinner she pulled out all of her decorations (the tree was already up but naked) and asked everyone to help her decorate it. I thought that was very forward thinking of her, but a little early for me.

• United States
28 Oct 06
We start decorating after Thanksgiving but the tree goes up two weeks before Christmas. Just enough time to still get a good tree and keep the tree fresh and healthy all the way through Christmas without getting too dried out.

• United States
27 Oct 06
We used to do it the day after Thanksgiving. I couldn't fathom doing it any earlier than that, but just this past week I've seen a couple of houses that already have lights up and on! UGH! LOL Of course, the last couple of years I haven't bothered to put a tree or any decorations up at all... too much effort for no real reason(for me).



• United States
29 Oct 06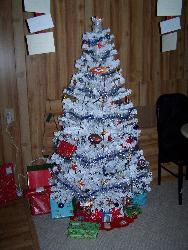 Wow that's early!! We put ours up Thanksgiving weekend and take it down the first week of January. ~Remember to give out +'s when it's deserved & select best responses. It helps us all out ;-]