Arsenal now richest club in UK?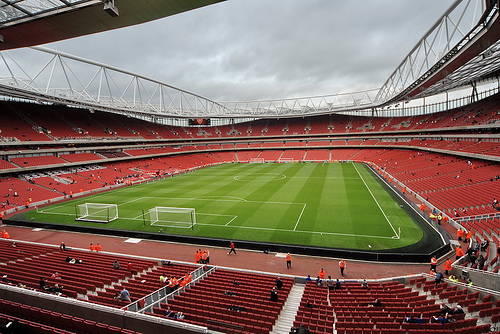 Malaysia
September 24, 2007 9:17pm CST
Oh yes.. i just got some interesting new to all Arsenal fan. My Friends Arsenal has overtaken ManU for being the richest Football club in UK and they are the second richest club in Europe behind Real Madrid. Its reported Arsenal gain near 50% increase of profits from their new Emerates Stadium. And now.. it also reported that Arsenal allocating about 140 million pounds when the next transfer market is open. But i guess Wenger wont be using it much for new players... Congratulations Arsenal.
5 responses


• India
25 Sep 07
You can be damn sure that Wenger wont buy players left and right like morinho or other managers. Wenger likes to develop young talent and you can see the impact of the youth system now. Arsenal on top of the premiership.

• India
30 Sep 07
That's big news!! Wenger should get a lot of credit for the same. Unlike other managers who keep cribbing that they do not get enough money to spend in the market, look at what has Wenger done!! His biggest buys in the last three years is Thomas Rosciky which pales in comparison with the buys made by Man U and Chelsea and still he manages to keep his team in the top 4!! Also the sales generated out of Viera and Henry is phenomenal!! As your rightly pointed out I doubt if Wenger is going to spend much from the 140 million pounds kitty either next year!! Cheers! Ram

• Malaysia
26 Sep 07
its a good thing to hear. At least the fans know that Arsenal dun hv any financial prob and even the new stadium also making some profit. with a great start this season, even a warchest of 70m will not make AW buy some ridiculous overprice player to be added in the current squad. its the new generation of Arsenal Peace~

• Singapore
26 Sep 07
Hi Philvax. I believe your statement "richest football club in UK or second richest club in Europe" is a bit misleading. Arsenal is not yet the richest, but definitely they are the club with the biggest income during the financial year. The actual fact is their annual pretax profit dropped 65 percent to 5.6 million pounds from 15.9 million last year. As long as the club still refinancing the debt it borrowed to build its Emirates stadium, they will not be the richest yet. Hope this info helps

• Malaysia
27 Sep 07
Well it was said in ESPN sports news and also in our local news papers, in the net and also their website.. They close their financial year last MAY.. and the revenue from the New Emirates Stadium.. made about 50% increase from the previous year. And it was said that by end of this year or the next financial year Arsenal will be the richest football club in Europe