Dog Names!!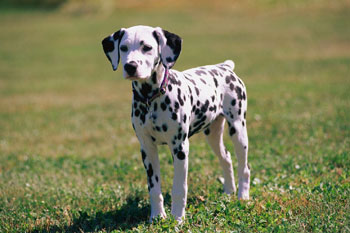 Tokelau
4 responses

• United States
26 Sep 07
She is very pretty. The frist name that came to mind was Dutchess. I think its a very nice strong name. And its not very common. We just got a new pup and her name Is Hemi Layla.

• Tokelau
26 Sep 07
Funnily enough someone already suggested that name and i declined, there is something that just doesn't seem right about it. But thank you anyway. Your dog has definitely got a unique name though:)

• Canada
26 Sep 07
My dogs name is winston... he is a pug... I think the perfect name would be..angel... I love dalmations... the are so beautiful..

• Tokelau
27 Sep 07
Angle..that is quite nice. How about saint? They are beautiful dogs, always so happy. Not too bright though:)

• United States
25 Sep 07
She is a beautiful puppy. My dog came with a name, he was 6mo when I got him so I kept it..His name is buddy, and it matches him perfactly..lol I always see how my pet acts, and give them a name that matches their personnality...If I had a female dog that was Prissy, Snoby, kinda stuck up attitute, I'd probly name her Sassy...something like that...lol you might be able to look at baby names and their meaning to help you pick a name.

• Tokelau
25 Sep 07
I also like the idea of matching the name to the personality, otherwise the name just doesn't fit. But i'll also check the baby names out. Thanks alot.

• United States
26 Sep 07
Good luck on finding the perfact name for her.

• Atlanta, Georgia
25 Sep 07
I like designers and I think those names stand out. Unforgettable kinda names. My dog is named Dior. She means the world to me. I take pride in my pets. I also have 3 other dogs named, Patches (a pit/rott mix that kinda looks like petey from the little rascals), Dakota (a chow/shepard mix that kinda looks like a mountain dog) and Mack, who is an Australian herding dog that looks like he was splashed with oreo cookies. Nothing that means much, but they all have names that stand out in my opinion. Just pick a name that makes you smile. The dog will like to see you happy!

• Tokelau
25 Sep 07
Those are some brilliant suggestions, thanks a bundle.

• Canada
25 Sep 07
Well my dog is a girl and her name is Rufus. I named her after a character from a movie that I saw a couple weeks before I got her. I think a cute name for your dog would be Cookie, because she has the same coloring as a Cookies and Cream chocolate bar.

• Tokelau
25 Sep 07
Thank you that is a really great suggestion, i might just use it.