The Nightmare Before Christmas

Canada
September 25, 2007 9:52am CST
This is an oldie but a goody. It is a childern's movie about a skeleton who takes over chirstmas. I loved this movie when I first seen it and my childern enjoy it even today. My son is going as the Pumpkin King for Halloween this year. He was Skeleton Jack two years ago. I just loves the movie and I made all the characters out of paper and the towns so he can play with them. We don't have many movies in the house that we keep as a collection but this is definetly one of them. Have you seen it? Do you like it? If not it is a nice movie that the whole family could enjoy.
10 responses

• United States
25 Sep 07
That's so funny you brought this up. Our family was just discussing this movie last night. LOL! We don't own this one, but I am going to rent it, probably rent it this weekend. Make sure you have pics of your son as the pumpkin king. I bet he'll be really cute! :)

• Canada
25 Sep 07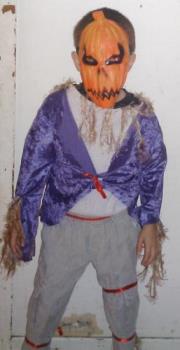 Well it is just forming but this is Cole so far. HEHE

• United States
26 Sep 07
I love it! I bet he's excited about it, too! How fun. :) Thanks for the pic!!!

• United States
25 Sep 07
I...absolutly...LOVE...this movie! lol. I agree with you, it is a great great movie. We used to own it but it's disappeared!!! :*( I've looked for it a couple of times because I wanted to watch it, but I can't find the dang thing...I think someone stole it, because it's just to dang good! lol.

• Canada
25 Sep 07
HEHEHE Too bad it was stole but I can understand why!

• United States
26 Sep 07
I'm not sure if someone really stole it =P lol. One of my nieces may have taken it home with them (they come over everyday). They are allowed to borrow movies from us, but maybe they just forgot about this one...they are just 4 and 6 lol. Maybe next time I go to their house I'll snoop around for it! =P

• United States
25 Sep 07
Its not a classic BUT it will be without a doubt! I LOVE Tim Burton movies....and Nightmare is one of my favs (my kids too) Jack is my hero LOL Nightmare is tied for 1st place with Rocky Horror Picture Show for us LOL Corpse Bride (also by Burton along wiht many other great flicks) is another really good one also I believe a claymation flick...

• Canada
25 Sep 07
Ravenladyj I think you are my twin. LOL Well in movie tastes anyways HEHE Rocky is up there as my number 1 favorite too. Have you gone to the live shows of it? My sister did a bunch of times when she was in T.O. I was so jealous of her. I would have loved to seen it live. Yeah I think Corpse Bride is claymation too.

• United States
25 Sep 07
Oh I WISH I'd seen the live Rockys when I was in Toronto! they used to have them every weekend yrs and yrs ago..I'd actually love to take my kids to a live show of that AND Hedwig and the Angry Inch..Have you seen that one (I've only seen the movie version not the off broadway production)

• United States
25 Sep 07
yes that was a great movie and my whole family enjoyed it as well.this is a great movie for family and friends to gather around and watch.hope you are feeling better.pattie

• Canada
25 Sep 07
Yup I am back in the groove now but my sister is sick now. Even though she is 2000 km away she caught my cold. HAHA Hope you are doing good!

• United States
25 Sep 07
yup im doing ok,i still have the bad cough and congested but much better,and now my 2 babies have it.i guess its just going around.take care hon.pattie

• United States
25 Sep 07
I saw the movie. I heard the makers of the movie had to work really hard on that movie. After all it is clay animation. I think it is a stop and play animation. It must of took a lot of people and a lot of time to complete that movie.

• Canada
25 Sep 07
I think it took over 3 years to do it but I am not sure. It took them a week to do one minutes worth of the film. It was very difficult to do I bet but it paid off.

• United States
25 Sep 07
It is my 13 year olds top most favorite movie. I have to say that I do not enjoy it to much but he is crazy about it. I did however like the Corpse Bride, and I purchased that DVD for my grand daughter who is 4 and her Name is Emily also. But yes, The nightmare Before Christmas gets a lot of play time at my house.

• Canada
25 Sep 07
Corpse Bride was good too. My daughter is going as one for Halloween this year. HEHe

• United States
26 Sep 07
I love this movie. I think it, along with several other of Tim Burton's movies, is amazing that the whole thing is done in claymation. I love all the characters even the Oogie Boogie Man LOL I know there is Nightmare Before Christmas and The Corpse Bride. I believe there is also one called Vincent although I haven't seen it yet. Tim Burton is truly gifted when it comes to these claymation movies. **AT PEACE WITHIN** ~~STAND STRONG IN YOUR BELIEFS~~

•
25 Sep 07
This is one of my favourite movies and I can happily watch it time and time again.

• Beaconsfield, Quebec
26 Oct 08
I really enjoy watching this movie. It is a good oldie. I must admit that I haven't seen it in a while, but my fiance got it for me recently and plan on watching it, soon hopefully. It is certainly a movie that I plan on keeping and watching many, many times.

• United States
27 Jul 08
I absolutely love this movie. My husband bought me the special edition collector's dvd a few years ago for christmas. I was completely stoked. Well, he also ended up buying me a tin lunchbox that had a scene from the movie on it, because I collect them. :) This movie is a great one that you can watch over and over again, believe me, I have. lol. I think my huband and I may go as Jack and Sally this year for Halloween if we end up going to any Halloween parties.