Star Trek or Star Wars?

United States
October 27, 2006 3:11pm CST
Which one is cooler? Lets settle this now. I'll go first. Star Trek is stupid. Star Wars rules!!!
10 responses

• United States
29 Oct 06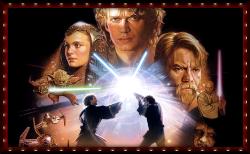 I'm definitely more of a Star Wars fan. I can watch the movies over and over and never get sick of them. I grew up watching the old ones with my parents and now my husband and I watch the whole series together.

• Australia
28 Oct 06
I like both of them. Star Wars has really been done as much as is possible, unless George Lucas makes the final 3 movies (remembering that they were 3 sets of trilogies). However, do we really need to know what happens? With Star Trek, there are so many different things that can happen with them. They were the first ones to have a female captain (Voyager), and they are completely different to each other. The only things the same in Star Trek are the captains log - stardate xxx.yyy.zzz The two sets of movies are really completely different to each other, and so cannot be compared to each other.

•
28 Oct 06
It's gotta be startrek voyager for me, as every episode is a different scenario, starwars is cool but predictable, but ahhh what the hell, I love both of them :)

• United States
28 Oct 06
You're right. You gotta love both of them in some way. Did you hear about the new moview JJ Abrams wants to make about Star Trek? Tom Cruise might be in it


• United States
29 Oct 06
I don't like either. I guess i'll go with Star Wars though it's my brothers favorite.

• United States
29 Oct 06
Star Wars is much better than Star Trek.