Do We Waste Our Time in Chatrooms?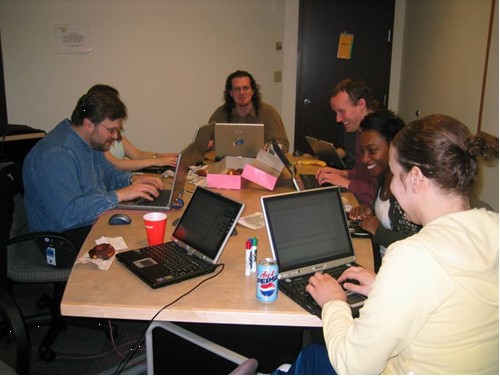 Pakistan
September 28, 2007 10:19pm CST
what you think that why we go to yahoo or other isps chatrooms to find best friends or just spending our time there. i always use chatroom as non serious persom because i beleive that the all chating things are fake their is no future merit in this work but its the best way to spend your time if you are free from from work and want an entertaiment its best to use as fun but those who beleivse on quate of chating are not doing fair with their selves what you think and have you ever become serious in the matter of chating if yes then on the behalf of what in my life i never be and never want to be serious in such matters and i also give this segestion to do not become serious
5 responses

• India
29 Sep 07
I dont like to waste my time by chatting.After joining mylot i completly stopped chatting.By chatting there is nothing to gain.In mylot we can share our problems with others and at the same time time we can earn some extra money.

• China
29 Sep 07
In my opinion, i think if you have no enough time in you real life for communicating with people , this maybe a better way for you to do so. Autually, i usually log on some kinds of chatting sofeware when i surf online, i don't think it is a wasteing-time things you do with. Of cause,if you do it baly ,it will hart your life so much,you will late for you working, forget do sth which you are planned to do,etc. i think ,you should be take a balance of your real life and such things you do. in conclusion,i think people can get more for chatting online than other ways they using. Good luck Zhang 29th.Sept.2007

• Pakistan
29 Sep 07
i think mostly we waste our time in doing so.its just a waste of time.no one take it serious.all the persons chatting in the rooms are liar.

• Philippines
29 Sep 07
Hello furganoops, I think sometimes people waste time in the chatroom. It can be addicting at times, I remember I had a friend before who would spend the whole day just chatting in chatrooms. There are a lot and different kinds of people online in chatrooms it pretty hard sometimes to know whose real and whose not. I don't spend time going into chatrooms and usually I just use its messenger service to chat with my relatives and friend who are living far from us. Other than that I don't go in chatrooms anymore. :-)

• United States
29 Sep 07
I never go to chat rooms, but I do have friends that spend way too much time in those things.