what's the best birthday gift to give to your special someone?

Philippines
September 29, 2007 6:40am CST
Its my boyfiend's birthday 2 weeks from now and I only have a few days to prepare for it. I was thinking of a weekend getaway as a gift for his birthday but unfortunately, he can't leave the city on the weekend of his birthday. We've been together for 4 years and I was not able to give him anything on his last two birthdays because I was busy with work. I would like to make this special because this is the first time that I can spend his birthday with him. Do you have any suggestion on what I should give him?
6 responses

• United States
30 Sep 07
well does your man like baseball, football,cars stuff like that? if he does you need to have one of those games going on or take him to a car show.. another thing is a guy loves food so cook him up a romantic homemade dinner, that will get to his heart fast!! talkin threw the stomach is the best possible way. also eat romantic foods and have strawberries and whip cream for a dessert, then take him outside and you 2 watch the stars in the sky and just talk about how much you miss him and how special this day is because he was put on this earth and with out him you wouldnt be the same! then after all that give him a special gift like a sports hat or boxed dvd set something that he likes, then for the rest of the night cuddle in bed!!!

• Philippines
30 Sep 07
a getaway is fun... why don't you go back to LB instead... u know... ;)

• Australia
29 Sep 07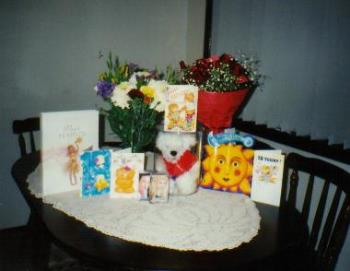 Remember it is his day and its all about him. You might like candels and roses and all that but he might prefer loud music, fast cars and hamburger. Make it all about him do something that he likes and enjoys. I am sure there is something that he likes all you need to do is get that out of him in a way that he wont know why you ask.

• Hungary
29 Sep 07
My boyfriend birthday is coming too. Now I planned a T-shirt sticker for him. I think it can be quite special. I made the plan,now I have to make it realized.

• Philippines
29 Sep 07
uhmmp.,follow your heart if what do you think that what he likes,.or give the something that you are always remember like a pillow,if he hug the pillow,you are remember him..hehe..good luck,do your best plan for him to much that u love him..hehe..:D

•
29 Sep 07
If you haven't been able to spend the past two birthdays with him, then the best gift will be you. make the day about you both, a nice candle lit dinner, soft music.So much you can do, presents are never what makes it special it's being with those you love