do you make or buy??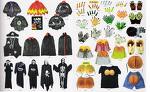 United States
September 29, 2007 10:09am CST
well halloween is coming up and i'm thinking is least expensive if i made my kids costumes. i'm thinking of turing my son into spider man .. i have a spiderman outfit and im going to paint his face. as for my daughter she is complicated because she wants to be curios george and i dunno hwo to start making hers....i got sum nice warm cloth but i dunno..maybe i should just buy hers. so do make yours or buy it???
1 response

• United States
29 Sep 07
When my son was small we always made his halloween costumes. Since the things he chose to be seldom came in costumes thAt could be bought. One year he wanted to be the guys from Ghost Busters and I made him an outfit using vacuum cleaner and kitchen pots and pans and he loved it!

• United States
29 Sep 07
now thats a clever idea wish my daughter would want to be ghost busters.