Movie: A Beautiful Mind....what are your thoughts?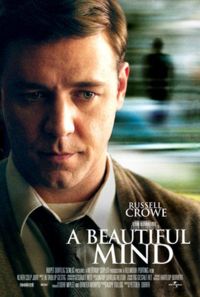 India
September 29, 2007 12:06pm CST
This one is one of my favorite movie. I would like to share some info about this movie. Its better if you can give your comments on how do u like it? A Beautiful Mind is a 2001 biographical film about John Forbes Nash, the Nobel Laureate (Economics) mathematician. The film was directed by Ron Howard and written by Akiva Goldsman, and was inspired by a bestselling, Pulitzer Prize-nominated 1998 book of the same name by Sylvia Nasar. The film also stars Russell Crowe, along with Jennifer Connelly, Ed Harris and Paul Bettany. The film begins in the early years of Nash's life at Princeton University as he develops his "original idea" that will revolutionize the mathematics world. Later, Nash develops schizophrenia and must endure paranoid and delusional episodes while painfully watching the loss and burden his condition brings upon his wife and friends. The film's theatrical release was on December 21, 2001, and was well received by critics. It went on to win four Academy Awards including Best Picture, Best Director, Best Adapted Screenplay, and Best Supporting Actress. It was also nominated for Best Leading Actor, Best Editing, Best Makeup, and Best Score. However, the film has been criticized for its inaccurate portrayal of some aspects of Nash's life.
1 response

• United States
29 Sep 07
We watched this a few different times. He loves it, but I just couldn't get into it. I couldn't sit still, dinner needed cooked, children had to be tended to......Idk......I just couldn't get into it.