Preparing Spells, With Intent And Personal Powers...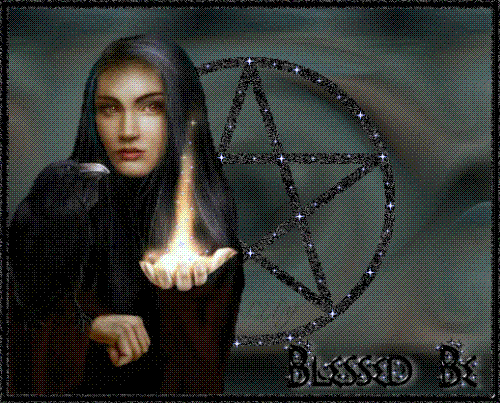 September 29, 2007 1:39pm CST
An exchange of preferences with a friend, in another discussion of mine, prompted me to ask this question of anybody who casts spells. Now, I don't know about anybody else, but to me, buying a ready-prepared spell is not the way to conduct a successful casting. I think you'll probably all agree with me that from the beginning of the preparation, to the end of the casting, you, yourself have to be involved. To my mind, if you buy a spell that's ready-to-cast, then you don't know the intent that's been incorporated and you don't know the powers of the person who prepared it, let alone the ingredients they've bought from a third party. So... that makes it important to me to be involved personally every step of the way, from conception, through release of energies, and thereafter. I study the moon phases and the days which are best for the type of spell I'm casting... sometimes, even down to the hour. All this, naturally, has to be done some while previous to when you intend to cast the spell. So, from there, on we go. Here's how I work... firstly, the conception of the spell required. I'll give this a lot of thought, writing down ingredients required and checking them over. Next, I'll write the spell on rough paper, usually in rhyme, check that through and if it seems to me that I'm only asking for what I want, and not risking a problem, I'll write it to my BOS, or Tree as it's called in my tradition. Then, I'll need to gather any herbs I can, personally... preferably under a full moon, with my boline knife. All this time, the intent is in my mind... I know exactly what I want, and where I'm going to get it. Naturally, if you have the herbs or bark, whatever, in your garden, then that's a bonus, as it's personal to you, planted and nurtured with your own, magickal hands. Ok... I've gathered everything, made or bought my candles, and now I need to mix any oils or incense herbs that are needed for the spell. Then annoint the candles with the appropriate oils and intent, placing everything on my altar. I'll carve a rune into the spell candle if I deem it necessary. Then the normal procedure of cleansing, both personally and sacred space wise, raising the circle or "temple" and calling the corners and deities. Basic things done, I now cleanse and bless each item I'm going to use in the spell, and cast the spell in the normal manner. On completion, I will again consecrate and bless the pouch in which the spell tokens are placed... crystals, herbs, ribbons, and other ingredients until I'm totally satisfied that I have done everything to strengthen my powers and beliefs within the pouch. How do you work? Do you agree that negativity can be passed through a third or even second party... that spell casting is between you, your deities and the energies of the Universe, Elements and Archangels... and maybe if you're casting the spell for another, they have to know when you'll be doing it so they can add their intent by concentration, thereby strengthening your powers? What are your beliefs here? I'm very interested to hear them. I would stress here that if you're reading this and don't have FULL knowledge of spell casting, then please do NOT dabble in this on the strength of what I've said. You'd be embarking on a very dangerous mission and putting yourself to uncalculable risk, so all I will say is unless you qualify fully DON'T TRY THIS AT HOME! I have only skirted on parts of the practice of spellcasting, which is a very serious practice, not to be taken lightly. I'm not wishing to offend anybody who doesn't believe in spells and spell casting, so please bear with me here if you're one of those people. These are my personal beliefs and I'm extremely interested in the beliefs of others who work within the Craft, and I apologise now if anybody finds it offensive, but the heading dictates the topic and maybe it wasn't a topic you wished to visit? Thank you.
6 responses

• United States
29 Sep 07
Oh I see where this came form and no I wont dabble in it for I havent read or practiced anything. I have read alot about certain thing but I dont think I would evert try it myself or on any one for I dont beleive I have that kind of powers. I do say blessings and such but neer would I want to hurt any wone with what I say. I would really have to get into it to do it . and read a heck of lot more and even have a teacher. I do beleive in the good energies that have been sent to me and ai welcome them. thanks for your post hugs and blessing

•
29 Sep 07
Dearest Lakota... believe me, you have the powers. We all do, but in you, they show, kind of shine out. However, if you're not confident in drawing on those powers or the effect they will have, then you never will use them in the way I do. To some people, the fact that they have the powers within them is quite a daunting... even frightening... prospect, so they lie dormant, which is really a great pity. If my instincts are right, you could do great things with your powers, but I'm not one to force anybody into something they don't want to do. That's entirely your decision whether you test your abilities or not. Indeed, we all have to learn how to use our energies and powers. For me, it was part of my Wicca teachings. I was a little wary at first, but that was soon overcome. Now, I think nothing of it, and like you, I wouldn't dabble in what they call black magick and harm people. I only work for the good of the earth and my fellow beings. Besides, I wouldn't want to suffer the returns of bad magick. Blessings are kind of prayers that we all say, I believe, in every walk of life. They're a way of communicating with our deities, thanking them for the brand new day, and again, when it's over, etc. I think that's a way of life. I believe the Natives do have prayer too, and although they don't actually work spells, they do have certain magickal rites... is that so? I would love to sit down and talk to you about the Native ways. They fascinate me. Oh well... keep reading and learning. That's the best way to find out things and know what people are all about, I guess. Brightest Blessings my friend. xx

• United States
29 Sep 07
I would like to learn more about Wicca. ANd I am not sure on every thing the natives do. I have had hope of going to a pow wow one dqay they do have one around here about 2 times a year but never have got up to one yet . They have a dance for every thing and story telling that has came down thru the ages that I would love to set and listen too. YEs I do Beleive I have some powers and what I take form people on here it must be kindness shinning out . am I tooting my own horn there? My daughter took massage thrapy and she dont like to massage me she says my energies are stronger tham hers. and she dont want the conflict of ours together so she covers herself before she strt so she wont get my energies. No I would never want to do black magic at all I just dont want to hurt anyone. I used to set out at night and talk to the wind. and after I found my 3 boys again I havent talked to it at all. yup and I think prayers and blessing are the smae but a little different for in blessings it seems we call on more than just GOd. HUgs and blessings and I got to lay down have a good night !


• Brazil
25 May 08
Hi darkwing. I don't know much about this but sometimes I do little spells. I do all the guidness tell to do only this since I'm not an expert like you. But I believe in magic. I wish that I know this much you know because I am now needing a good speel to solve my problems. But I like to read your discussion and thank you for share your knowledge. cheers

•
28 May 08
I hope you've been very thorough whilst doing your little spells, my friend. Make sure to cleanse your space of all negative energies and protect yourself before attempting spells, and follow procedures to the letter. If you're just dabbling, you're placing yourself in quite considerable danger. I have to warn you of this. Spellcasting is a serious business, my friend, so please make sure you're doing everything by the letter. Feel free to PM me if you have any questions, or if I can give you some reading to do on the subject. Thank you for your contribution, and Brightest Blessings. Stay safe. x

• Brazil
28 May 08
Thank you very much for your offer of help. You are a nice person since who knows magic never want to help none, only for money. They keep their knowledge and never share with others. I am only a person that like and believe in magic and speels. I know that it is a serious thing and I never will try to do anything that I don't know much about. Peace my friend

•
1 Jun 08
Thank you, my friend. My offer was quite sincere, since I don't reckon to ever take money from anybody for the gifts I have been bestowed with. That, to me, is an insult to my Goddess and God, who blessed me with the gift in the first place. Brightest Blessings, and always take care. x

• United States
30 Sep 07
Sometimes if it is a type of spell I've never done before, then I pretty much will prepare the spell exactly as it is written in the book...I use a lot of Cunningham's, Eileen Holland's, Starhawk's and a few others as my guides. Of course as time goes on and if I do the same type of spell then I add or reinvent that spell to make it my own--for instance, when I self-initiated myself to officially pronounce my "intention" to follow the path some six years ago , I took a little bit of this, a little bit of that from various books about how to conduct the initiation --I did have my own prayers and dedications however written out...Several days before my "initiation" I wrote everything down in my BOS..it turned out to be thirteen pages long----um...strange huh? LOL Since I knew this was to be such a special ocassion for me I wanted everything to be just right. I decided the best time for me to do my initiation was the exact moment of my birth time on my birthday...a novel way to celebrate one's birthday --no? And each year since I've done a re-dedication of my initiation. for the "celebration" of that first initiation I made a few special items...I designed my own pentacle necklace out of pure silver wiring, I also did a special necklace with a piece of suede in the center in which I painted a wolf's head..wolf being my totem animal, plus a special suede pouch which now holds a variety of gems, my dedications and prayers and other items I hold relevant to me (won't tell all !!) My so-called altar believe it or not, is actually on the floor...I have a 3-1/2 foot pentagram painted on my wood floor of my bedroom (you should see the look on people's faces when they see that..LOL)--I arrange my altar items as need be...a red color candle at the southern tip of the pentagram..blue at west, green at north and yellow at east--in the center of the pentagram is where I have my self, god and goddess candles...I have my incense burner which is in the style of an Ancient Egyptian woman kneeling, and a statue of Bast--my athame, etc...I have a lot that I set up here! In other words I have a very, very elaborate set-up here! And I only set up when I do spells, but I do a quickie version of it every single night as I would actually feel "strange" if I didn't I regrettably don't have the benefit of a garden being that I live in a city environment, so any herbs/spices I use has to come out of a jar! As for my candles...most times I just get those large ones in the glass kind, but I will write out the spell place it on clear tape with the written spell side in view on the sticky part, sprinkle various herbs/spices for that spell so it adheres to the tape, then place the written spell onto the candle. In some cases I use those tall pillar types and then write the spell directly on the candle--my most popular spells I do are for prosperity/abundance (green candle), success (yellow), and healing (either white or blue candle) and these spells are most definitely my own that I've made up myself and also my protection spell (blue candle) I've only had a few occassions where a person has asked me to do a spell for them, but most times its for myself. I could go on with the various aspects of my spell-casting, but lets face it some things are private..right??

•
30 Sep 07
Yes, of course, I agree that some things are private, and not to be spoken about in a public place such as this. Indeed, you have been very explanatory in your response which I thank you for, because I know where you're coming from and can relate to all of that. I too started off drawing spells from other people, but they had to have the right "feel" for me, personally. Also, yes I agree, there are certain things you can't make, such as gemstones and the like, but you can cleanse them and bless them and make them your own on receipt... right? This is what I do. Wherever I can, I'll make my own tools because they then become more personal and powerful to me. But for a very good friend and mentor making a set of wooden runes for me, I would even have attempted that, but this is early stages for me at pyrography, so I have to learn to walk before I start running with the elaborate stuff. I'm going to start with a wooden pentacle, a God image, a Godess image, and markings on my new staff and wand. I bought two wooden acorns, which are blind pulls which have gone to my friend for decoration, and which when returned to me, I will make into pendulums, one for him and one for me. :) I feel that by drawing from nature, and producing these things myself, I am drawing energies into my tools and putting them to good use, for the good of the source from whence they came. So... a big project ahead, but one that I'm going to enjoy immensely, and at the same time, I'm learning something new in the "how to" line. As for the spells, which was the original conversation anyway before I digressed, lol, I too enlist the help of other, more experienced witches, and change the words to my own, often. I at least draw ideas from them, from time to time. As I'm a writer of poetry, it's not a difficult task for me, but we all get brain blockages, don't we? I like the way you write tape your spell and herbs/spices together and place them on the candle. That's a great idea, Pye, which I would never have thought of. Well, I seem to have written endless responses to you tonight and if I don't shutup, I'm going to send you to sleep, but I find your responses most interesting and informative and can't help sharing things with you. I hope you'll excuse me for that! :) Brightest Blessings my friend and thank you so much for sharing. x

• United States
30 Sep 07
No problem...I'm in a chatty mood myself..LOL All of my ritual items I did cleanse and bless. My athame is in the decoration of an Egyptian style dagger, my chalice in a Celtic knot design, but my wand is special as I did make that myself. Since one should never cut down a branch/tree for any item..least I was told that...I waited until branches fell off naturally from oak trees in a park near me...and I was lucky...about a month before I was to do my initial initiation, we had a terrible storm..blew off limbs of trees like crazy, so I picked up a few--I picked the one branch that felt right to me and whittled away to get it the right length and shape...my real special touch though...I did the guord or peyote beadwork all around the wand...it took a full month just to do that--then fitted part of a cleaned out half of a lamb leg bone onto one end--don't ask why I decided to use that but it just seemed right..then in the hole of the bone at the other end I found and bought a large crystal piece that fitted into it like a glove..you couldn't ask for a better fit--IT's probably longer than most wands might be, but I'm happy with it.. :) I was glad it turned out to be a branch of an oak tree, as that seems to have meaning for me..and it is considered one of the sacred trees--right?

•
30 Sep 07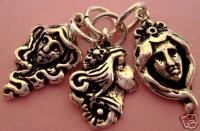 Wow! Your wand sounds wonderful. Yes, you could say that the Oak is a sacred tree, lol. In fact, it's called the King of Trees and also known for its Strength and Endurance, holds the Power of Protection and Guards from Evil. The Oak King presides over the Waxing year from Winter Solstice to Summer Solstice, as I'm sure you're well aware. Oak is the God of light and symbolises healing, growth and coming into power. An Oak Wand will nourish your faith in yourself and enable you to aim for what you most desire! Now, I am very much into Maiden, Mother, Crone objects. Expensive, but I love them. In fact, I just bought myself a Maiden, Mother, Crone Scrying Bowl, which I've yearned for in a long while. Also, I have seen an Athame, with black, Maiden, Mother Crone handle and a chalice in the same design, and all Nemesis Now items. They're on my Wish list for the time being, but what I did see on E-Bay, and decided to purchase ahead of my athame, was a Maiden, Mother, Crone pendant, in silver. I couldn't resist.:) It arrived here within 28 hours, in a black satin pouch and I'm delighted with it. I'll post a pic, but the real thing is even better than the pic, which doesn't do it justice, really. My wand will be hazel, for dual reasons. My birth tree is the Hazel and its properties suit me down to the ground. Historically the Hazel Tree is linked with the number nine, it takes nine years for a Hazel Tree to mature, Hazel gives inspiration and nine is the number of the Muse. It is also the sacred number of Gaia, the Spirit of the Earth. This next bit will make you laugh... rulers of Ancient times considered a Hazel wand a symbol of great authority and wisdom and wands made in this wood were often found with the buried remains of the noteworthy. So there you go... as I said that suits me a treat! If I decide to place a crystal in the end, it will be amethyst, my favourite colour and again, a wisdom crystal which links to the spiritual world. The wand itself will be simple, with traditional markings pyrographed onto it, and possibly with the Goddess Symbol highlighted with silver and the God Symbol with gold acrylic paint.:) So, there you have it! :)

• India
30 Sep 07
Hey there Darkwing.... I really never knew and could have never guessed If you wouldn't have told it yourself. Not like I have any problem but I am bit amazed. Any ways I am quite curious to know what all spells you have ever casted and why?

•
30 Sep 07
Hi Raphael... long time, no see, my friend. Did you have a good Summer? I have something to tell you before I answer your question... my Astological Sign is Libra, an air sign and my Archangel is your namesake, Raphael. Something else which might be of interest to you, are Raphael's qualities... He is the archangel of healing and safeguard of humans from illness and disease. He also serves to awaken creativity and beauty, which helps to stimulate higher mental faculties. He purifies our minds and erases false beliefs and thoughts that trigger health problems in our body. Just thought I'd throw that one in! lol. Right... your question. Despite the beliefs of the doubting Thomases, we don't go around casting spells at every opportunity, in a willy-nilly fashion. To us, it's a serious business and only done when we feel a real need. I have cast a few spells, mainly for healing, protection and success reasons, and mainly for others, although I have done spiritual healing and protection for myself. So you see, it's not as sinister as some would have you believe, my friend. Why you're amazed, I'm not really sure because I don't hide what I am, and although my beliefs are slightly different, I, myself am no different to you or the next man. I just tread a slightly different, and if I might say so, more exciting and satisfying path than several other traditions and religions. I don't really regard mine as a religion, but rather a way of life. I'm Seax-Wicca, but did my basic training in Wicca before incorporating the Anglo Saxon beliefs into it. My ancestors were Saxons, and I feel kinda comfortable within this tradition. So there you have it, my friend. You live from day to day and learn something new along the way! :) Brightest Blessings... great to see you back!

•
30 Sep 07
Well sweety as you kn ow our beliefs are very different but I cannot understand how anyone would be offended by your post! I indeed was very interested in what you had to say - I found it very intiguing and informative! I had no idea that there was so much work and preparation involved in casting a spell! Thank you for once again giving me a wonderful glimpse into your world and beliefs sweety! Hugs xxx

•
30 Sep 07
Thank you Mummymo.. yes I know our beliefs are very different and I value your acceptance of me as I am. Not all spells are complicated. Some are very simple and straightforward and can be performed anywhere and at any time, but if you need a strong spell, then you do have to work at it, and make sure you're doing it for all the right reasons, at the right time, etc. Naturally, this takes up a deal of time in preparation but it's worth the effort to get the power and results that you want. It is, as I keep saying, a very serious business with us. We record our spells and experiences in a Book of Shadows, or my tradition calls it, Tree, so that we can refer back to them at a later date. It's a bit like a journal of our activities within the Craft. So far, everybody has been so understanding here. There has been no animosity and there have been some very interesting and valuable debates within the discussion, but I can't help noticing that some deleted discussions are harmless also... it depends on the mood of the reader, I guess. You're quite welcome to a glimpse into my World and beliefs. I love to share but I don't push it on anybody. Any time you have a question, I will always accommodate it, and give you the best answer I can, my friend. I'm flattered that you find yourself so intrigued and interested in what I do. Brightest Blessings my dear friend. xxx