Learning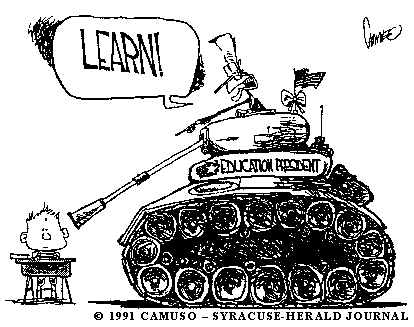 October 1, 2007 7:46am CST
How do you like to learn new things? Do you prefer to be taught in a classroom, read books, watch documentaries, have discussions with people? Or is personal experience the most important thing to you? How do you learn most effectively? What's the most useful thing you've learnt?
5 responses

• United States
1 Oct 07
I rather see a documentary first, then do some research on my own second. And then I would love to sit and either hear a seminar on the subject or sit and listen to a first account history on the subject.The most useful thing I have learned was to listen, not just hear things but to really listen.

• United States
1 Oct 07
I love the picture you attached. That is what is really happening here in the States.

•
2 Oct 07
Listening skills are very important and a lot less common than people might expect. A simple test of this is to ask someone as they leave a lecture to give one important point of the lecture - many people will struggle to remember what was just covered.

• United States
2 Oct 07
That would be the best pop test ever given.I have never really been to a lecture but I always thought that I would wire myself for sound so I could replay what was said. You can be really trying to listen and yet miss the point.


• United States
2 Oct 07
I prefer personal experience, reading, and discussions for learning, MarkyB21. While I spent quite some time in the classroom, I have found that that is the least effective way for me to learn.

• Philippines
2 Oct 07
I prefer to learn from every possible information I could gather, be it on life/people or in classrooms. Since there are things in this world that we never thought we knew of, it's better to be more open-minded and observant. I believe that learning is process of sharing and passing knowledge to one another, so it's better if we keep a wide array of resources and credible facts to keep ourselves on track.

• United States
2 Oct 07
I learn best in a hands on manner. Most of the time I only need to be shown something once if hands on and I can usually do it after that. I think the 2nd best way for me is thru reading or thru seminar. Visually seeing someone demonstrate can be helpful, but definitely not as well as being able to do it yourself.

• China
1 Oct 07
Learning from the examples directly connected to the new things . Think that way, learning a new dance step may watch someone experienced behave ahead from your eyes, and you could get the most striking effort on knowing how to play it well. The first step is a thing, you know.