the evning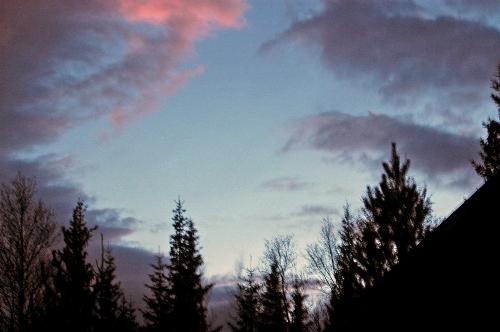 Sweden
October 1, 2007 12:59pm CST
I was just out for a short moment and as always I look up at the sky and did see some nice clouds, not so colurfull but I hawe to go in and get the camera and my tripod. This is what i get I think you can feel the fall weather in it nice but cold. It was like this for only 10 minuts then it was gone and the sky was full of blak clouds. The blak in the left corner is the roof of my house and a small part of the wall.
9 responses

• United States
2 Oct 07
That's really lovely. It looks like it belongs on a greeting card or on a calendar. It really is beautiful and you captured that time of day perfectly. I hope this picture finds a place on the news as well. It deserves to be there for everyone to see.

• Pakistan
1 Oct 07
Hey!!! My Friend how are you any ways Nice picture again I realy like this also great work .....Lovely......!!!!!

• United States
2 Oct 07
Ohh! I love the pink and the purple clouds! =P And mix in the blue background, it's just perfect! The dark trees are a cool effect too! Another greta picture from you! =)

• United States
2 Oct 07
I def. do like it! :) Just like most(all) your photos! Im always watching for your future work, so keep them coming! :) Thanks for sharing your homes beauty!

• United States
7 Oct 07
I really enjoyed looking at your picture. The sillouettes of the trees are beautiful! The blue sky is peaceful, and is that pink a piece of heaven? Great shot!

• United States
4 Oct 07
Wow Matte, this image is spectacular! It's what Hubby & I call a "God shot". You know, those moments when it seems like The Divine is reminding us that he or she is there? Were you using a wide-angle lens? The image seems to have a circular sense to it. Or, was that just the angle with which you took the shot? Either way, this is my favorite yet!

• India
2 Oct 07
wow, this is a great picture indeed. The colour copmbinations is quite inspiring. Congrats!

• Netherlands
2 Oct 07
Hi Matte, such a nice shot you were able to taka again my friend :) Compliments! I rated it and left comment too. And keep taking with such wonderful shots in the surrounding woods in the mountains where you live. I enjoy all of these a lot :) TheFortunes


• Philippines
4 Oct 07
I love this picture! It felt like I am watching the clouds when I'm looking in it. Great joB!