do you feel nostalgic and lonely when it rains?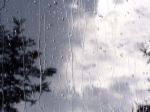 Philippines
6 responses


• Romania
10 Oct 07
Hey. Right now, in my city is raining, but I am not lonely or sad. I am just sleepy. I don't like this weather...

• Philippines
10 Oct 07
I used to have that mood before. especially during those times i am still recuperating from a lost of a love one. Rains are like reminders of the pain I am feeling deep inside. But as time passes by and my life underwent many changes, i was able to overcame it. rain to me now reminds me of those happy memories i had when I was still achild playing with rain. the alughters and games i used to share with my friends then.

• Philippines
2 Oct 07
If I'm alone and its raining heavily and not windy I feel depress. But when the weather worsen and I get the cold it drives the depression away because I have other pressing issue at the moment.

• Philippines
2 Oct 07
there are instances that when it rains specially heavily that i am feeling gloomy and worried at the same time because i am thinking that the highways would be flooded again and i would just be staying at home the whole day. but light rains usually doesn't bother me much and i could be happily 'singing in the rain'...LOL as someone said earlier here that the cold wind and absence of the bright sunlight make the day very nostalgic.