Halloween is coming this this month so on that note.....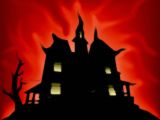 United States
October 2, 2007 9:21am CST
You are in charge of going to a very large old house that belonged to a distant relative who recently passed away. It hasn't been lived in for years and you are supposed to pack everything up to be moved out. You're staying there for a week with a friend. There is a caretaker who lives in a small house a few yards away from the house but you seldom see him. Even though there are a lot of bedrooms do you make your friend sleep with you? If you're in bed and have turned all the lights in the house off but see a light coming under the door and what looks like shadows passing by do you get up to check? If you do do you take a light with you and anything that could be a weapon...just in case it's something/someone who is alive? What thoughts would be going through your head if you were going out that door to check? If I were in that situation I would have had a moving company do all the work and not spen one night in that house!!!
9 responses

• United States
3 Oct 07
LOL! I'm with you. This sounds WAY to much like a Ghost story, and I am just nto abig fan of ghosts! So I would hire a company to pack stuff up during the day, I would not let them work at night! I wouldn't want anyone getting hurt there, for any reason!

• United States
2 Oct 07
I would for the hell of it with friends and not on my own. I would have my friend/friends sleep in the same room as me even if he/she slept on the floor and i had the bed to myself LOL Most definitely make sure there is a radio or music playing at night so as the house isn't quiet and if i did see a shadow outside the door, IGNORE it and try to get some sleep or watch tv, or do something.

• United States
2 Oct 07
I think I would stay there, ctry, just to find out if the old place is haunted, lol. Let me assure you, though, if I were to see one scary thing, I would be out of there so fast. And, I would never turn off all the lights! Are you kidding? I rarely turn them all off in my apartment. I am a big scaredy cat. I would also like to have at least two friends with me.(:

• United States
2 Oct 07
Well you say nothing about this house being haunted so I'd probably have fun with it. I wouldn't be all scared and I wouldn't wuss out and make someone else do it. Nor would I have my friend sleep in the same room with me. We'd just have fun with the plcae. Now if you said it was haunted...that'd be different.

• United States
2 Oct 07
Nah, the house isn't haunted...I definitely would have said it was if it was...lol.....I don't see myself having "fun" in a place like that though and stick to having movers do the whole thing!

• United States
2 Oct 07
I agree, I love history and have been in the process for several months now of finding really old pictures of my relatives. Now have pictures or my great grand parents. How awesome. If I were to spend time in that house I would have to go through every nook and cranny. You would problably be shocked at the lost treasures you might find. As for the friend, they would have to stay in there own bedroom. I like my privacy to much to share a room. As for me I would want to keep the house in the family, why sell something with that much history. I would problably try to move in. D


• United States
2 Oct 07
well, first I would check to see if my friend was still in bed with me. If she wasn't, then I wouldn't be stupid enough to go investigate on my own. I would call 911 and tell them that I think my house was being broken into and wait in my room for the cops to show. That is the safest thing to do. If my friend was not in bed with me, then I would get up and go find out what she is doing. To be honest though, I doubt I would be in that situation as I hate doing anything as awful as packing up someone else's dusty old stuff. I would have hired a company to take care of it all for me. I am just lazy that way.

•
4 Oct 07
my son just said the other day he wants to go to a haunted house. I thinkhe is nuts. i beto scared. I know there is probply ghost but i dont think i want to see one for me self.!! I sometimeswish i could see my daughter though, she passed asway 3 years ago at 7 years of age. My husband thinks he saw her but i didnt.he didnt tell me cuss he didnt want me to freak out.

• United States
24 Oct 07
I'd stay and explore everything that I could. I'm nosy by nature, so I would see what the house has to offer. I like going through other people's rooms just to see what I would discover lol! Part of the fun is finding things that don't belong to you, because I see everything that I own everyday so they get a bit boring. I do try my best to keep from doing that though.

• Philippines
3 Oct 07
Hello! That sounds scary. Just the thought of it gives me a creep....*hehe* First I would not go to that house alone and not even consider moving all the things alone or with a friend. I'm not that nuts yet to do it....or let say i'm not that brave enough to do it. Secondly, for a fun side...I would go there but not alone. I'll bring all my friends; invite them all to a Halloween-creepy house party. FUN!! Disco lights, drinks, food, everybody having fun. As with the caretaker, i'll invite him too. And with the shadow passing by, I won't be able to notive it for sure are I would be busy dancing and laughing with my friends. And as far as the moving of all the things is concern, i'll hire a moving company -like you- the next day....after the party. *hehe* What else can you do with an empty big house in the month of Halloween but to have a Halloween Party!! LOL!! ciao! c",)

• United States
2 Oct 07
I have spent the night in houses that are haunted. One is my boyfriends families ouse. It is a very old house and his parents were always telling me stories of things they have seen or have happened. When I have stayed there I have though I have seen things out of the cornor of my eye...but is has never been anything that would make me say difinatively that the place is haunted. Still the stories were interested, and so long as the spirits are friendly, I would be ok with it.