Strange Items on eBay

United States
October 2, 2007 11:37pm CST
Jay Leno does a bit now and then on strange things that were put up for bid on eBay and he has the audience guess whether they were "sold or not sold". Some of them are absolutely incredible but they were actually posted. Tonight there was an empty dog food can found in Paris Hilton's trash and it sold for over $300! What's the strangest or funniest item you've seen for sale online and would you ever buy any of these crazy items? Annie
5 responses

• United States
5 Oct 07
The strangest thing I've seen for sale on Ebay was a "ghost in a jar". The person selling it claimed that he and his friends had gone to an old insane asylum, set the jar in the corner, and caught a spirit in it. I don't remember how much it sold for, but now if you look up "ghost in a jar" there are TONS of them for sale!


• United States
3 Oct 07
They do post some strange items on eBay, anniepa. I thoughtthat some pies I saw on there priced at over $30 each were about the strangest-that is, until I recently saw O.J.'s email address going for $500. You have to love the enterprising nature of people these days, lol.

• United States
3 Oct 07
I've shopped on e-bay a few times but only bought once and that was a laptop... It was older and didn't pay much at all for it.. So it was a good buy.. I really don't search much threw e-bay because there isn't anything I really want from there anymore, I mean I can go to places and get the things I want cheaper than e-bay!

• Netherlands
3 Oct 07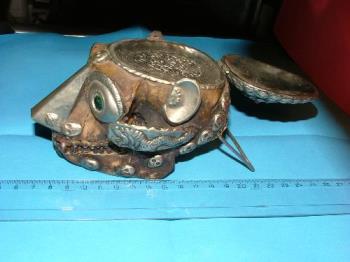 Hi Anniepa, once I bought a real monkey skull covered partly by metal, and it was Tibetan. And this was a real one, so after awhile I was able to re-sell it and for a good price too - about $400. Most of the people Iknow called me crazy when they saw it in my home and asked what it was. I'll attach a photo of it here. Do you think this is weird? TheFortunes