Kath and Kim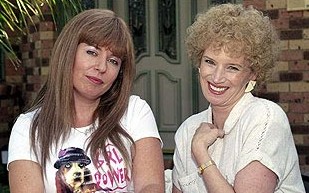 Australia
October 3, 2007 2:08am CST
I would just like to know who out there like the TV show from Australia......Kath and Kim? These foxy ladies from Fountain Lakes and becoming bigger than ever and the show has gone abroad. I was just wondering what your thoughts of the show are. Personally, it has to be one of my favourite shows ever and it makes me laugh soooooo much. I think I'm even starting to convert my partner into a Kath and Kim fan. ssshhhhh don't tell anyone though, he would never live it down if it got out. LOL I wasn't a huge fan of the Kath and Kim movie, but the TV series keeps me in stitches.
2 responses

• Australia
6 Oct 07
Oh yes i can relate! My hubby tells me that my mum and step dad sre the real life Kath and Kel. Im more like kimmy myself! LOL I dont think its quite as good since going to channel 7, i think they have had to tone it down a little bit, which is sad. Oh and everyone needs a friend like Sharon!!

• Australia
7 Oct 07
No you can be my other best friend traici but that will depend on the gift at baby shower... lol wasnt it a thing of gas?? lol

• Australia
3 Oct 07
I think they are hilarious! Did you catch them on Dancing With The Stars last night? omg! What an outfit! If you missed it, see if there are pics on the Dancing With The Stars website. Kath & Kel danced up a storm, lmao!

• Australia
3 Oct 07
OMG! How funny was that? I had tears rolling down my cheeks. I only caught the tail end of their dance but it was soooooo funny. I think my partner was nearly wetting himself. hehe don't think he has seen Kath dance before.