India- Australia Series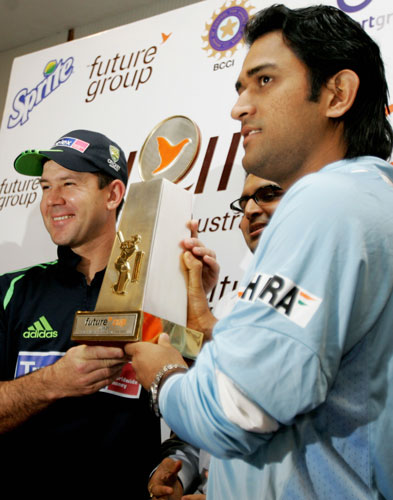 India
October 4, 2007 6:34am CST
what do u feel about the India Australia Series?? what will be its outcome?? will the T20 champs will this or the world champs? write and post whatever u want about the matches give your 11 to the 3rd ODI and the rest of the matches...... tell which players were at fault in the matches going on...[may be an Indian player or an Australian player]....... try to write about each player also like Sree Santh who has put India in shame post as fast as you can!!!!!
5 responses

• India
4 Oct 07
i think india will definitely loose...now the indian side is not in good form as they are indian fans are expecting much from them after winning T20.this will increase pressure on indians.and also australia has got good start in the future cup..i dnt think india will come back in the match...lets see..

• India
4 Oct 07
even if India loses the next match are you going to watch he whole series?

• India
4 Oct 07
I am very confident Australia will bag the series this time.But good performance from Dhoni is also likely.All players need to support Dhoni if India need to win the series.I feel yuvrajs average may not cross fifty and Sreesanth and Zaheer espcially will go for more than four runs per over in the series.I feel Zahher will be hit for quite a few bounries in this series if he continues to bowl like how he did in the previous matches.Mathew.Hayden according to me is likely to be the man of the tournament.India may win another one match thats all in the series.

• India
7 Oct 07
Well, currently it seems that Australia is definitely lifting the Future Cup. But one has to optimistic. 4 matches are still left. And we have to win at least 3 to draw the series.

• India
7 Oct 07
thank you for responding but in this series being optimistic will not work. optimistic is 1% and shows what they have inside is 98% and the other 1% is damn LUCK!!

• India
5 Oct 07
what i feel is thatr t20 is not at all a game of cricket and that is the reason why the indian team is not able to complete with aus in the present one day series they are good in slogging but they lack th basisc thing and that is good batting with good running we have a lot of stroke makers but the thing is aus take a lot of quick singles and that is how they keep the score ticking and they dnt come under pressure where as when our team bats they are completly depended on boundaries and that is why when they play against good team with good fielding they suck big time aus told that they have strong basics and that is what is the true thing they play inteliigently they scores singles of good balls and despatch bad balls to boundaries

• India
7 Oct 07
according to me t20 is a time pass game and we won a time pass game thats all

• India
7 Oct 07
hi, I think we indians are very emotional about cricket. The way india played t20 cup was refreshing and we have to praise our guys. The point is v lose our hope in our players very quickly. Look at the way australins plays this game. We bang our players up and we bang them down very quicly. We should support our team when they are not playing well. Remember the england series we were way down and yet v recovered to a 4-3 series. We could have won that one if the umpiring have been better. So guys dont loose hope just hope our guys strikes form and we have a close series. Iam seriously looking to robin utthapa i guess he holds the key in this series. Cheers, Tutul

•
4 Oct 07
Being aggressive isn't bad if you can use that aggression to raise your performance,but going over the board sure doesn't look good, especially when your chips are down.I think Sreesanth is a character like the Chakde girl who used to get angry.He'd have to learn how to get the best out of his temper without getting angry.As for this series,Aussies are going to win it simply because they are playing better One day cricket.India needs consistent performers who are ready to slug it out-for example Rohit Sharma.This won't be the last one.India is touring Australia soon.So,we can expect some excitement to follow.