What was the funniest costume you ever dressed up in??

Canada
2 responses

• United States
5 Oct 07
The craziest thing I have ver dressed up as was Wendy, the girl from the Wendy's sign. I was working the day of Halloween, and since I was the smallest one on staff, they decided I should dress up and I took the whole thing home with me, and wore it all day.

• Canada
5 Oct 07
Im sure its better than dressing up as the big A&W bear!LOL.Wendy is cute!:):)

• Canada
5 Oct 07
LOL Funny. I think the funniest costume I ever had was when I didn't have one and took a green garbage bag and stuffed my head and arms through it. Took an old cassette tape and unraveled it all over me and put green food coloring on my face. It was so pathetic it was funny.

• Canada
5 Oct 07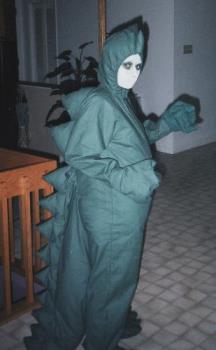 Lol,its a good idea!I made a booboo and forgot to add the picture of me,here it is,lol.:)