I Still Know Who She Is! - True love personified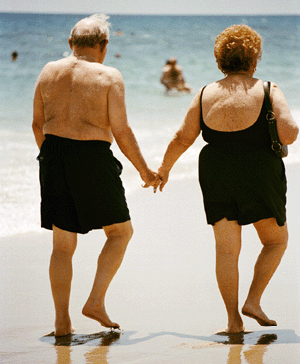 United States
October 4, 2007 11:08pm CST
A friend sent me this and it really says a lot about TRUE love. It hit me hard because my father had dementia and even when he was mean and confused, we loved him. My mother was in a vegetative state for a long time before her death and my father went to the hospital every day and sat at her bedside reading although they said she didn't know he was there. He knew he was there. So, as you see, this got to me. But it should speak to all who wonder what real love truly is. No responses needed, I just wanted to share. I Still Know Who She Is! It was a busy morning, about 8:30, when an elderly gentleman in his 80's, arrived to have stitches removed from his thumb. He said he was in a hurry as he had an appointment at 9:00 am I took his vital signs and had him take a seat, knowing it would be over an hour before someone would to able to see him. I saw him looking at his watch and decided, since I was not busy with another patient, I would evaluate his wound. On exam, it was well healed, so I talked to one of the doctors, got the needed supplies to remove his sutures and redress his wound. While taking care of his wound, I asked him if he had another doctor's appointment this morning, as he was in such a hurry. The gentleman told me no, that he needed to go to the nursing home to eat breakfast with his wife. I inquired as to her health. He told me that she had been there for a while and that she was a victim of Alzheimer's Disease. As we talked, I asked if she would be upset if he was a bit late. He replied that she no longer knew who he was, that she had not recognized him in five years now. I was surprised, and asked him, "And you still go every morning, even though she doesn't know who you are?" He smiled as he patted my hand and said, "She doesn't know me, but I still know who she is." I had to hold back tears as he left, I had goose bumps on my arm, and thought, "That is the kind of love I want in my life." True love is neither physical, nor romantic. True love is an acceptance of all that is, has been, will be, and will not be. Oh, by the way, peace is seeing a sunset and knowing who to thank. The happiest people don't necessarily have the best of everything; they just make the best of everything they have. I hope you share this with someone you care about. I just did. "Life isn't about how to survive the storm, but how to dance in the rain."
7 responses

• Philippines
5 Oct 07
What a wonderful story and a meaningful message. Most of the times we forget to be thankful about our blessings and dwell on those that are unimportant. Most of the times, the miracles in our lives are those everyday normal things or happenings. Laughter, tears, the morning hugs, special time together with our love ones, the moments you remember, and anything and everything.

• United States
21 Oct 07
Yes we are often so busy that we forget to show our love. I try but I am as guilty as anyone when it comes to being busy and not always being as attentive as I should be.


• United States
5 Oct 07
Yes. Words mean little compared to actions.

• United States
5 Oct 07
That was wonderful..thank you. One of the nicer things I have read.

• United States
5 Oct 07
It really touched me because that is how I always envisioned love and marriage to be and it was that way in the end for my parents even though they weathered many many storms in their 50 years together.

• United States
5 Oct 07
This really touched me... having been on both the giving and receiving ends of care and concern, I know this feeling. When I was crippled, my husband helped me eat, wash, dress... even use the bathroom. When he had surgery, I did the same for him. This has happened several times for each of us, and there is never a bitter word or whine. Luckily, we take turns with these problems!LOL!

• United States
5 Oct 07
It is the same way with my husband and I. He had a life threatening illness and surgery and I lifted him and took care of him until he was stronger and I had several things happen and he was there taking care of me. Neither of us even thought twice. That's just what you do. Luckily so far, like you, we alternate between illnesses and injuries. I don't know what will happen if we both end up sick or hurt at the same time!



• United States
21 Oct 07
Its the weekend and I hope you have a great one yourself!

• Philippines
6 Oct 07
Hello! I've read this one before and posted it here but still it's one of those articles/story that you won't get bored of reading and would still be touch by it after reading it how many times. When I first read this one I was so touched and realized how lucky his wife is. The first thought that came into my mind was 'I wish I would experience such true love too'. I believe that true love is loving the person as a whole not just his strong aspects but also embracing his weaknesses. Nice post. Enjoy your weekend! *smile* ciao! c",)