Fight and work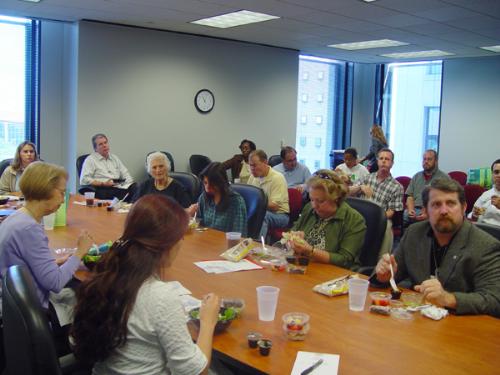 United States
October 5, 2007 12:34am CST
Have you ever gotten into a fight with a co-worker or even your boss? Who started it? What was it about? How did it end?
7 responses

• Philippines
5 Oct 07
I had a fight with my former boss. I can honestly say that I'm hardworking, seldom absent and never late, and always willing to work overtime. One time I was late for like 2 minutes. He reprimanded me big time about it. I was so mad with him that I would walk out during meetings and gave him the cold-treatment. Most of my co-workers sided and sympathized with me. In the end, he apologized to me, with tears and all. What a cry baby!! When I left the company, we parted not as enemies but in good terms with each other :)

• United States
6 Oct 07
No. Never. I've disagreed with bosses and co-workers, but I've never gotten into a "fight" or argument over anything. I don't think there is any place for that at work. If you have a difference of opinion, you can tell them what it is, but you shouldnt get into an argumetn over it. If you don't agree with your boss...well,that's your boss. The boss has the final say in things. If it's someting completely unrealistic, then you go to your bosses boss with it. Or, you find another job. If it's a co-worker, you let the boss decide which is the way it should be handled. If it's not about doing the job and it's just personal, you just keep your conversations about work related stuff. you don't need to have personal relationships with your co-workers if you don't get along with them.

• United States
6 Oct 07
Yes I got inot a fight with a manager, she was mad cause I was doing stuff on the computer and I was taught how to do something she thought she only knew how to do, it turned into a screaming match and she told me to go home and I refused to leave, so she called the owner funny thing is I am best friends with the owners daughter and she just laughed and told the manager yes I taught her how to do that lol my manager was so pissed at me for like a week

• United States
6 Oct 07
not a real fight, but yes some hard discussions... I guess was some communication problems... she never got what I mean... We went and talked with our supervisor, and then she started arguing with him... to make the short history short... it was not my fault!

• Philippines
5 Oct 07
Fighting at work isn't really fighting. It is more like "trying to make a point". How else can you work properly if you will not point to them what you think is right, realistic and effective. People just misinterpret it but it is actually a way of explaining ideas and opinions about one specific subject because the two doesn't understand each other and can't reach to an agreement.

• China
5 Oct 07
I have never got into a fight with anybody as I am a peace-loving person. I will get very nervous when I see someone fighting. This is not what I want to see. I want to have a very good relationship with people around me to make me feel good and happy with my life and work.