what is your favorite breakfast?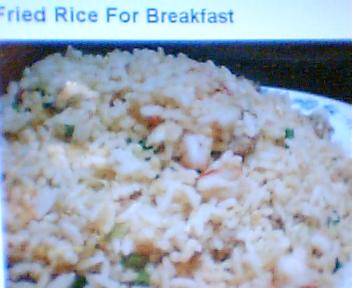 Taiwan
October 5, 2007 10:43am CST
every morning we eat breakfast light beakfast or hard breakfast.i refer to have garlic fried rice with punch egg with cup of coffe and pandesal with butter too that common breaksfast from philippines what did you prepare most of the time on your breakfast what is your favorite there lots of kind of breakfast well you share with me.
8 responses

• Canada
5 Oct 07
Hi!My favorite breakdast is cream of wheat hot poridge cereal with buttered toast.I like dipping the toast in the cream of wheat,sometimes i will even add fresh sliced peaches to it too.Yummy.:)

• United States
5 Oct 07
Hmm...I would have to say pancakes, eggs, bacon, hash browns, the usuall. Garlic fried rice sounds awsome, but not as a breakfast food for me.

• Philippines
24 May 08
Hi there mitzwu! I am from the Philippines too so we pretty much have the same thing that we want for breakfast. I like fried rice or what we call sinangag here, with salted egg or "itlog na maalat" with tomatoes. Then I pair it up with coffee.

Now I'm hungry.


• Philippines
24 May 08
Rice is good for my diet...=) hard breakfast... Im from philippines too...Filipino Breakfast is rice

• United States
23 May 08
My favorite breakfast meal...umm...lets see I would have to say french toast...hand paws down..it has to be one of the best meals I have ever eaten for breakfast

• India
10 Feb 08
I am a non vegetarian guy.......normally prefer it over everything else. And so chicken is by far best for me than anything else. Breakfast goes off with the eggs. And then the lunch and dinner are chicken only....but yea i like different combinations with it....like bread or rice.

• Philippines
7 Oct 07
I could eat heavily during breakfast but I can be satisfied with a glass of Taho. It was indeed my favorite. I could even have 3 glasses of it each day. I also love coffee a lot. Especially when it has to go with hot pandesal and butter.

• Malaysia
7 Oct 07
If taking breakfast at home I like to serve myself with a cup of hot coffee, soft bread or toast and fried eggs with two slices of bacons. Most of the times I would like to accompany my husband to a nearby restaurant to have our breakfast. The foods served there are all delicious, like wantan noodle, curry prawn noodle, chicken dumplings, nasi lemak (coconut milk rice) etc. Of course a cup of hot coffee is a must for both of us. Occasionally my husband will take a up of hot English tea instead of coffee.