Koukou Debut to be published in US (release dates)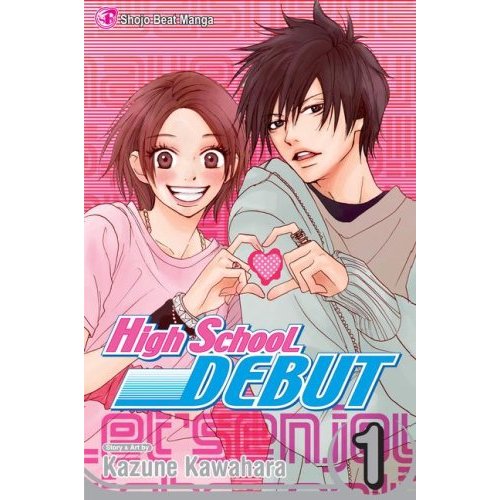 Poland
October 5, 2007 5:12pm CST
So Kazune Kawahara's Koukou Debut, one of the most popular shoujo manga these days, got licensed by Viz recently. Here are the release dates: - vol.1 January 1st 2008 - vol.2 March 4th 2008 - vol.3 May 6th 2008 It will be released under the title High School Debut. If you're not fammiliar with the series here's what's it about:Haruna, our main protagonist, is starting her life as a high school student. During middle school she was giving her all as a softball team player, but nowshe has a new goal... to find a boyfrient. it would be hard for she is tom-boyish, has no sense of style nor experience with boys. But she finds a coach. His name is yoh. He's popular, he's cool, he know how to act in every situation and he's willing to share his knowledge with her. But he also have one condition... "Do not ever fall in love with me"- he says... So what do you think? I fell in love with this manga from the very first chapter
4 responses

• Philippines
25 Aug 08
I LOVE THIS MANGA VERY MUCH!!!!!!... i am looking forward until the end... pls tell me if you have some updates.. thanks!! ^_^

• Philippines
26 Aug 08
yes, i already know that but thanks for the information!! I really love this manga and so far, i've read the one uploaded in onemanga.com, that is chapter 44. I am very eager to learn more about this manga. I hope that Yoh and Haruna can always be together. I'll be rooting for them. I will visit your blog soon, thanks for the info!

• Philippines
2 Aug 08
I just started reading this manga and I hope that its completely available.. whatever means that may be...

Just like these kinds of stories and characters that aren't so typical in a romance..


• Philippines
1 May 08
I just love this manga! It's so hilarious, and I particularly like Haruna and Yoh's characters. They're not the usual lovey-dovey shoujo manga couple. I do hope updates would be released faster. I'm stuck with chapter 36 and I badly want to read more.

• United States
6 Oct 07
Thanks for the news Pompon. I'll have to keep an eye out for this one. Always looking for manga to read among other things.