Do you knom Malaysia?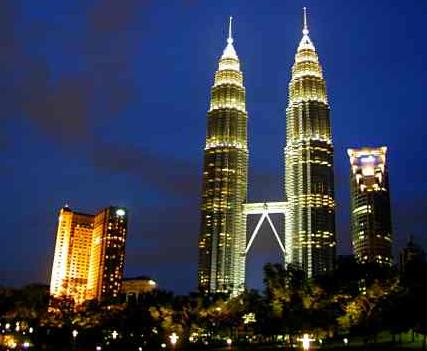 Malaysia
October 6, 2007 9:58am CST
This year is the year visit Malaysia.Have you to Malaysia? What is places of interest who ever you visit in Malaysia?
6 responses

• Philippines
7 Oct 07
Yes, I had been to Malaysia twice, KL and Kuching, Sarawak last year and recently September of this year to visit my hubby in Kuching. I had seen the Petronas Twin Towers, went to the viewing deck of KL Tower to have a clear view of the entire city of KL, went to see the KL Museum, Astana Negara (King's Palace), House of Parliament, National Monument and went around some of the malls. In Kuching, Sarawak my hubby toured me to the Cat Museum, Sarawak Museum, Sarawak Cultural Village, Civic Center, Amphitheater, strolled down at the Kuching Waterfront, went to some shopping centers and also we went to a beach about 15 km from Kuching. Are you a Malaysian? What's your nationality and what's the places of interest in your place?

• Malaysia
8 Oct 07
hi joyce959, where are you from? wow!! you have visited quite a number of interesting places in Kuala Lumpur...I've never been to Sarawak, anyway.. I'm a Malaysian and my hometown is in Dungun, Terengganu. Have you ever heard of Terengganu? Now I'm staying in Ipoh, Perak.

• Philippines
9 Oct 07
Hi again... I am from Phil. Nice to see you in myLot. Yes I had seen some interesting places in Malaysia, because my hubby is working there; but I have not seen yet some other interesting places like the Cameroon Highlands, Genting highlands and some more. I just read about Terengganu, but not yet been there. Maybe next time if I can go back to Malaysia I will visit some other places.



• Malaysia
10 Oct 07
hello...thanks for visiting... Langkawi is an island in Malaysia. We have many islands located all over Malaysia. We have Redang Island, Kapas Island, Hentian Island, Pangkor Island and many more. Come and visit Malaysia. I guaranteed that you'll enjoy if you visit Malaysia.

• Philippines
8 Oct 07
I really wish i can go malaysia.Ive seen some photos which has taken in malaysia and i really love it so very nice place.Actually i hve a lover who is from that country,hes always telling me that malaysia is really sophisticated country.He told me also that he will bring me to malaysia and tour around malaysia.Ohhh i cant wait,i really love to see that in my two naked eyes.That would be the most unfogetable moments that happen to my life.

• Malaysia
9 Oct 07
hi jackxav..your lover is from Malaysia?? Don't tell me that you haven't meet him before...Well, I'm sure that after you met him..you'll be more in love with him bcoz'Malaysian are very nice and humble.

• India
6 Oct 07
I had been to Singapore twice, butnot Malaysia. Of late Malaysia is making progress in leaps and bounds in the economic field and emerging as oneof the finest destination in Asia. I will be visiting Singapore again because my sister and her daughter, son-in-law are there and I shall visit Kaulalampur.

• Malaysia
8 Oct 07
hi ssh123...you have make a right decision to visit Kuala Lumpur..besides Kuala Lumpur, we have many other beautiful places for you to make your vacation sweet memories..

• India
6 Oct 07
well i have neva been to malaysia .. but would like to go there ...someday ...its a beautiful; place ...well ..one of the place that i would like to visit in malaysia .is the petronas tower :D

• Malaysia
8 Oct 07
hi devilangelo.. thanks for responding..well..you want to visit petronas tower?..yeah..it's an interesting place, but, once you've been to Malaysia, i'm sure you'll never forget all the memories..