which is your favorite breed of Dog?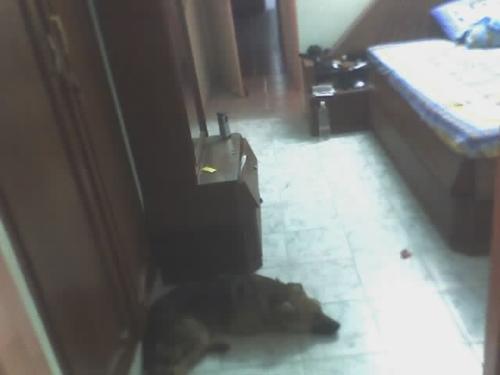 India
October 7, 2007 1:16am CST
hi! my favorite is german shepherd.i have a dog but it is cross between german shepherd and alocal dog.pure german shepherds find it difficult to survive in hot and humid conditions here.which is better-pure breed or cross breed?
8 responses

•
7 Oct 07
my favourite breed of dog is a St Bernard. I love their nature, and the lovely beseeching eyes. In my opinion the larger dogs (including the german shepherd) offer even more comfort, love and protection than the smaller dogs. I do not think there is anything wrong with a cross breed. (Clearly, if you have a pure breed, so much better, but cross breeds are quite acceptable)

• India
7 Oct 07
Hi1 oh st Bernard!-i know it is really huge and intimidating-what abt its temperament?how good is it as guard dog?


• India
8 Oct 07
Hi! even i wud prefer bigger stronger and fearless dogs who can protect their masters!

• Netherlands
7 Oct 07
Hi Amirev777, I have two favorite breeds. I like the Siberian huskies, and the Afghan hounds and aam pondering of taking one of these 2 shortly again TheFortunes

• India
8 Oct 07
Hi! hounds!oohh! i have heard they are dangerous!they were earlier used as hunting dogs-not heard much abt huskies though!

• Canada
7 Oct 07
I think that I could love most breeds of dog. I have two dogs right now. One is a pure bred Cocker Spaniel. They are fantastic dogs. She is super smart and a great family pet. My other dog is a Chihuahua Yorkie cross and she is lovely. She is a very spunky dog and so brave. I love both my dogs. I guess they are both my favorite breeds.

• India
8 Oct 07
hi! i know cocker spaniels are very intelligent dogs,also pure chihuaha are very cute-how is this cross of urs-cute or smart?


•
7 Oct 07
I like German Shepherds but my favourite dogs are Border Collies. I currently have mother and daughter. These dogs are supremely intelligent, love to please and athletic. Although, they have a reputation for being sharp with good socialisation as a pup they are very affectionate. all the best urban

• United States
11 Oct 07
My favorite type of dog is I guess what ever dog dosnt make me allergic because im allergic to most of types of dogs and the only dog that I have been around with that i havent been allergic to is a some types of poodles because my grandmother had a poodle and never couged also shitsu is another type of dog Im not allergic to. But I also like weiner dogs they are so cute and funny looking even though im allergic to them.

• United States
7 Oct 07
Mine is miniature daschunds. They are so cute. They look like puppies when they are all grown up. They are so tiny. They have cute floppy ears.