Caramel apples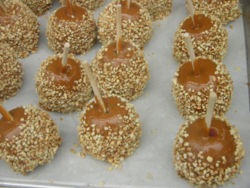 United States
October 9, 2007 9:00am CST
Do you like caramel apples? Do you make your own or buy them? What do you like on them?My son was telling me the other day that he wanted a caramel apple, but he wanted one without nuts on it. The store only had pre-made ones with nuts. I bought some sheets of caramel and made my own. He loved it. I had thought about rolling them in sprinkles or something, but left them plain.
5 responses

• United States
14 Oct 07
I ve never made them but I usally just buy carmel dipping sauce and cut up apples

• Indonesia
11 Oct 07
i live in indonesia, and never eat caramel apple before. i bet its really nice.



• United States
9 Oct 07
I like caramel apples but I haven't had one in a long time. They've had them at the store lately, maybe i'll have to get one or two. I'd like to try candy apples again but i haven't been brave enough. the last time i had one I was a kid and i got a rash so my mom things i'm allergic to something in the mixture. i should try it again and see i guess.