49 pages of discussion that i started.....:)

Indonesia
October 10, 2007 12:06am CST
i just little surprised when i take look back all of discussion that i started in mylot. it took 49 pages and approximatelly 10 topic discussion in each page. so it means i already made 490 topic discussion, he..he...he.... eventhough not all of them having good response. but it doesnt matter, i just enjoy a lotssssssss to be here :D have you ever counted how many topic discussion that you already made in mylot? how many topic discussion that you made then? were all of them getting good response?
4 responses

• Philippines
12 Oct 07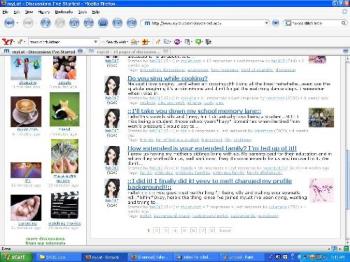 Hello! Wow! 49 pages of discussions you've started, that's a lot! I just checked mine and I only got 8 pages which means 80 discussions all in all..*hehe* not a lot eh? well, I must admit I enjoy responding more than discussing, but when a good topic comes into my mind i'll make a post of it. I have 2 discussions without any response at all..*hehe* so far so good when it comes to responses in my discussions. take care.*smile* Keep up the good work. Happy posting! ciao! c",)

•
13 Nov 07
First of all i want to congatulate for posting as many as 490 topics ,its too big a number . Ive joined mylot a couple of days ago and have posted around 10 topics and getting fine responses atleast in some of the topics. hopefully ill post some good topics and will get the responses accordingly...

• Delhi, India
15 Oct 07
Congratulations, for starting so many discussion. You must have got very sharp and witty mind, so that you could start so many discussions. I wish I could participate in those discussion, where I can contribute something. Truly speaking, I have not counted how many topics since beiginning I started here on mylot. Yet I think, it would be in the sufficient numbers. Now you have pointed out...I will check and will let you know. Cannot say, that all of the discussions got good response, it was perhaps a mixed bad, some got very good and quality responses, some did not. Getting good quality responses depend upon so many factors, and on few occasions, all those factors do not get fulfilled. Have a great day! P.S. - I have added you as my friend. Hope we will have nice time here!

• India
10 Oct 07
I have close to 4000 discussion topics that means according to your calculation I should be having some 400 pages dedicated to discussions. I had seen close to some 300 pages. I had no patience to go through till the end. So each one of us occupy so much of memory and space in mylot and imagine the management of server by Admin of mylot!!