How many eggs are safe to eat in a week?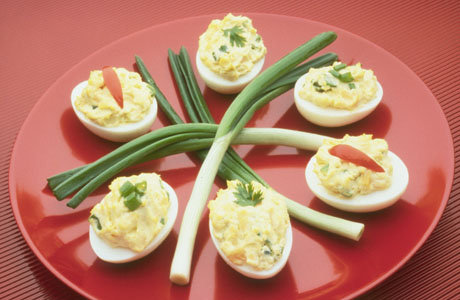 India
October 11, 2007 11:39pm CST
I love eggs and it can be in any form. Fried, scrambled, omlette, bhurji, whatever. Breakfast is incomplete without it. My whole family believes in a bumper breakfast, so eggs are a part of it. However I have been told that too many eggs can lead to cholesterol problems. Will someone guide me into how many eggs/week are safe?
4 responses

• India
12 Oct 07
Remove the yellow of the egg and eat as many as you want. The yellow is highest colestrol containt and the protien too, which is harmful to your heart. If possible don't take eggs at all instead take vegetables and carbohydrates and fabrous food and ample fruits in your diet. Always avoid the fats, sugar, oil and rice in your daily diet. Occasionally taking this edibles is ok but is not suggested medically otherwise. Wish you a healthy, happy and long life!


• United States
12 Oct 07
Sweetie eggs have been proven to be one of the best foods out there. I used to have the same concerns but now all you here is how the " incredable edible egg" has so many benificiary things for your health. Please research the egg I promise you will see. Eat as many as you would like.

• China
12 Oct 07
hI,friend . i want to say anything we eat too much ,is bad to our health.we should eat the better amount of eggs and other food.i have to say i also don't know how much we should eat ,but i also eat one egge in the breatfast,and another egg in the night. we know the egg is good to the health. we also should drink some milk.