Creekside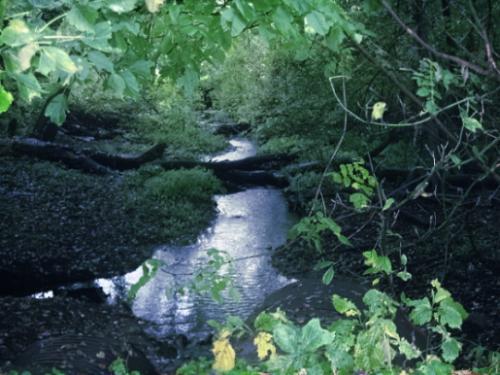 United States
October 12, 2007 2:31pm CST
This photo ws taken during my familys walk for Autism on October 6th. I heard the sounds of a babbling brook & of course I had to stop to take this shot. I love the log acrosas the brook/stream/creek. The sound was magnified from it being so quiet around the park as well so that's why I heard it. I love small creeks etc as this. The sound is so serene and soothing. Can anyone tell me the difference between a creek, a brook, and or a stream? I have no idea at all. HAHAHAHA! HAPPY POSTINGS FROM GRANDPA BOB !!~
8 responses


• United States
15 Oct 07
I thought it was a "babbling" brook? Hmmmm? HAHAHAHAHA!!! HAPPY POSTINGS FROM GRANDPA BOB !!~~

• United States
13 Oct 07
As always terrific photo Bob - afraid my blonde roots are showing tonight I can't answer this question either but I think it might have to do with what part of the country your in, north and south tend to use different names for the same thing, or maybe depends on the size - rivers, small, medium, and large :)

• United States
15 Oct 07
i'VE HEARD ALL THESE TERMS/WORDS USED HERE IN mINNESOTA. hahahaha

• Malaysia
13 Oct 07
Yes you are right there Grandpa Bob with your unerring statement for 'the sound is so serene and soothing' because I had several times enjoyed in park area in my country. I like this kind of place for my peace-of-mind session. I think for creek and stream sharing the same meaning and geographical element for having sheltered but for brook is unsheltered.

• United States
13 Oct 07
When I used to fish I loved just sitting by the waters edge listening to the sounds as it creeped upon the shore and the waves hitting each other in a slapping sound. HAPPY POSTINGS FROM GRANDPA BOB !!~

• United States
12 Oct 07
10 out of 10. Not bad. I think a creek is one that is surrounded by lots of forest and vegetation. A brook is out in the open and usually in mountainous or plateau terrains. A stream is in flat open areas. Oh and stream is the real term used for all of the following.

• United States
12 Oct 07
I always thought of a stream as a water that flowed into a lake or river. But I am lost here. That's why I asked. Thanks for the great 10 rating as well. HAPPY POSTINGS FROM GRANDPA BOB !!~

• Australia
14 Oct 07
I think a brook is the smallest, then a creek & then a stream. Your photo was lovely. I am really into nature scenes.

• United States
14 Oct 07
I love these types of pictures and my dream is to have a cabin by a nice babbling brook/stream. I believe that is a very relaxing surrounding and very soothing to the soul. I have no idea what the difference is between the three lol.


• United States
18 Oct 07
A brook, I know, is the beginning of a creek. A creek is bigger than a brook but smaller than stream. A stream flows into a river. Regardless, I love the sounds of water tumbling over stones and rocks which is why I like to spend time sitting out on our creek..or guess maybe a stream bank since it flows into the river.